Enlarged prostate problems are a very common issue for men over age 50.  The High Island Health Pro-State 950 prostate massager allows men to perform hands-free prostate massage therapy for enlarged prostate, without the problems and annoying side effects associated with prescription prostate medication. 
 A study found that nearly 14 million men are dealing with the symptoms of prostate problems, also called BPH or benign prostatic hyperplasia.  This  High Island Health prostate massager was invented in 1997 as a natural alternative to prostate medication.  It is made with medical grade materials and is precisely shaped like a finger, which allows for a pain-free therapeutic prostate massage therapy of the prostate gland and perineum.
Also known as milking 5  prostate massage therapy for enlarged prostate is an effective way to eliminate the pain and discomfort of BPH symptoms.
This product review contains affiliate links.  When you click a link and purchase a product, we may make a small commission which allows us to run the blog.
What is Prostate Massage Therapy for Enlarged Prostate
The prostate is a soft walnut-shaped gland, that is located just under the bladder.
An enlarged prostate can grow to the size of a lemon.  This can lead to prostate pain in the groin, weak urine stream, and frequent late night bathroom trips, and this is just the start.
A Prostate simulator 2  like the Pro-State 950 from High Island Health, stimulates blood flow to the prostate gland, which has been shown to reduces inflammation and swelling, improves blood flow, and washes away build up of toxins and improves weak urine stream. Prostate stimulation dates back 2,000 years to ancient China 12. 
Prostate stimulation 1 also known as prostate milking 5, is the process of massaging the prostate gland with a finger or prostate massager,  to eliminate the build up of toxic prostatic fluid and toxins in the prostate gland ducts.
High Island Health Selection Guide
| | | |
| --- | --- | --- |
|  PRODUCT | DESCRIPTION | USES |
| 950 | The 950 is our flagship model and is our standard model for men of average height. The 950 has a thinner head, body and perineum tab which allows a man to work the device over the entire prostate with practice. | Generally for men 6'0″ and under |
| Peristal for Men and Women | This is our newest product designed to massage hemorrhoids. The Peristal works by gently massaging the tissues around your hemorrhoids and anal-rectal area. | Beginners should start with Step 1 (22 mm) and work their way down to the smallest model. |
How The High Island Health Pro-State 950 Works?
The Pro-State 950 pro-state prostate massager, has an innovative and patented hands-free design that mimics a finger, to give you a therapeutic prostate massage. 
You generally use the prostate massager once a day for about 20 minutes per therapy session. Your sphincter muscle will direct the 950 right to the P-spot.  
As the sphincter muscle constricts and relaxes,  the Pro-state prostate massager rubs against the prostate gland, which gives it a therapeutic hands-free prostate massage.  As the muscle relaxes, the massager returns to it's upright position.
This shape of the prostate massager allows it to be easily and smoothly inserted into your rectum. The Pro-State 950 prostate massager from High Island Health, has a thinner head, body and perineum tab.  The tab gives you a stimulating perineum massage while the prostate massager is milking your prostate.  High Island Health is the sister company to Aneros, which makes prostate sex toys.
In a study from the Open Urology and Nephrology Journal, prostate massage therapy for enlarged prostate, was found to be 90% effective in treating or eliminating  
Prostate massage therapy for enlarged prostate can alleviate the following signs of enlarged prostate:
a swollen prostate gland
pain in the groin area
constricts the urethra, which causes weak urine stream
frequent late night bathroom trips
prostate infection
painful ejaculation during sex
Don't Need a Prescription to Purchase a High Island Health Pro-State Massager 950
Prostate medication can be expensive, requires a prescription from your doctor, and can include annoying or potentially dangerous side effects.
You don't need a prescription from your doctor to purchase a Pro-State 950.
High Island Health makes their prostate tools with FDA-approved medical-grade materials for your safety, satisfaction and protection.
Natural News reports that prostate massage can also reduce the chances of developing prostate cancer.
12 Benefits of Prostate Massage Therapy: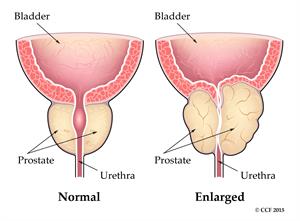 shrinks an enlarged prostate gland
promotes optimal prostate health.
reduces pain, discomfort and inflammation of an enlarged prostate
reverses weak urine flow
eliminates the buildup of toxins in the prostate ducts
improves blood flow to flush away build up of toxins in the prostate ducts.
stops pain in the groin
prevents late night bathroom trips
ends use of prostate medications
helps men get a good night sleep
stops painful ejaculation and makes sex enjoyable again.
improves sexual performance

How the High Island Health Pro-State 950 Compares to the Competition
There are Two Types of Prostate Massagers.  Those sold as a male sex toy, like Aneros, the sister company to High Island Health, and those sold as natural medical device to eliminate enlarged prostate symptoms. The Pro-State Massager is made for men to use for the self treatment of BPH symptoms.
Testimonials from Satisfied Pro State 950 Users:
"Before I used the prostate massager I never seemed to empty my bladder but now more than half the time, I am completely relieved. It has been a life changer."
"I can now drive longer distances before I have to use the restroom." "The PS-New produces greater discharge volume & more intense sensations; About three years ago I had a total hip replacement. That procedure required a urinary catheter. Some days after the removal, I was measuring urine out put and saw several small stones, about the size of a "buck-shot".
Thankfully this event was rapid and almost pain free. My conclusion is that the use of the PS-New probably saved me from any future urinary problems. Hope this is helpful – B.B."
"I have been using the Pro-State massager and Silver Water for the past month. My symptoms have been pretty much totally eliminated. My ejaculate is more fluid and the volume/force has increased quite a bit.
Using the massager is very pleasurable and I have used it several times during intercourse with impressive results. My urination and sexual experiences are simply amazing now and I have no discomfort at all since using the Pro-State massager. Thank you for inventing this little wonder!"
"I noticed a marked improvement in my urine stream. Its much stronger and I'm not urinating as often. I will definitely keep using it and I will try to increase the frequency of use. I think that will help me even more." F.L. (OH)
"What a blessing – The Pro-State has changed my life completely – I am considering stopping taking my flomax." W.A. (Indiana)  
WHAT EVERY MAN NEEDS TO KNOW FOR BETTER PROSTATE HEALTH AND SEXUAL PLEASURE

Potential Risks of Prostate Massage Therapy for Enlarged Prostate
When used properly, there are no known risks of prostate massage therapy 9.  If you are new to using a prostate stimulator, go slow and use ample amount of lubricant. 
This is important until your body is comfortable with a prostate massage. Prostate massage therapy should not be used to treat acute prostatitis or if you have prostate cancer.  This may allow cells to be spread to other parts of the body.
How to Buy a High Island Health Pro-State 950 Prostate Massager?
Just click this link,  Pro-State Massager, and you will be directed to the High Island Health website to purchase a Pro-State 950 Prostate Massager, lubricants and other items for your prostate health needs.  
Alternatives to Pro-State 950
SOURCES:
Disclaimer:
The statements made in this product review are my own, and have not been evaluated by the Food and Drug Administration.  The products and procedures discussed here are not intended to diagnose, treat, cure or prevent any disease or illness, to prescribe any medication or to be a substitute for medical treatment. You should consult a medical professional before performing self prostate massage.
Ken Weiss is a health blogger who is passionate about natural and holistic cures for men's health issues. He is the founder of menshealthcures.com