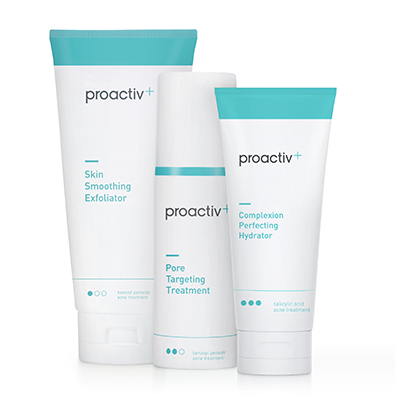 You have probably seen the infomercials on TV for Proactiv Plus.  This popular three step home acne treatment was originally developed in 1995 by doctors Katie Rodan, MD and Kathy Fields, MD, two Stanford University educated dermatologists who maintain dermatology practices in the San Francisco Bay Area.
I was a patient of Dr. Fields in her San Francisco office before she and Dr. Rodan developed Proactiv.   Even then she was a very caring and compassionate skin doctor, so it's not surprising that she developed an effective acne treatment that actually works.
Doctors Katie Rodan, MD and Kathy Fields, MD reformulated their popular Proactiv home acne treatment line into a more effective acne treatment to get rid of pimples faster,  which works by going deeper into the pores of the skin to kill the acne-forming bacteria to help you get rid of acne, and then it helps stop new or recurring blemishes from forming.
This product is an advanced acne-treatment with added acne medicine, built-in hydration and a new, smart way to treat acne.
This all-new 3-Step home acne treatment was completely reformulated from the ground up for the dual purpose –  helping you get rid of acne + a radiant complexion.
What is the Proactiv Plus Acne Treatment System?
The Proactiv Plus is an  Acne Treatment that consists of a three part acne removal system, which includes the following: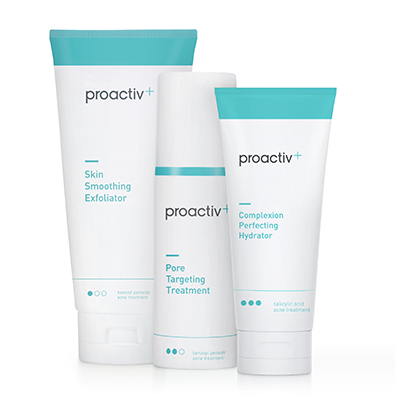 Step 1 – Skin Smoothing Exfoliator.  This medicated exfoliator is made with new smaller and finer tiny exfoliating beads to gently remove dirt, excess oil and dead skin cells to help keep pores from clogging and expose your radiant skin.  Many defoliators use alcohol, which can leave your skin feeling dry and tight.
The Skin Smoothing Exfoliator leaves your skin feeling hydrated and moisturized, the way healthy skin should look and feel.
Step 2 – Pore Targeting Treatment.  The repairing treatment is a creamy medicated lotion that goes deep into clogged pores to eliminate acne forming bacteria.  The Pore Targeting Treatment is left on the skin and is not washed off.
Step 3 – Complexion Perfecting Hydrator.  This final step in the Proactv+ Treatment is designed to hydrate, relieve and sooth irritated skin, remove post acne marks so no one will know you had acne blemished, and leaves your skin looking and feeling fresh and radiant.
The Complexion Perfecting Hydrator is left on the skin and is not washed off.
What's In Proactiv Plus?
Proactiv Plus is formulated to eliminate the bacteria from your face and body that causes acne, with the following effective ingredients known to get rid of acne and it's underlying causes:
Benzoyl peroxide (benzoyl peroxide (BPO) is an antimicrobial acne medication that works by starting to kill p. acnes bacteria on contact)
Glycolic acid  (an alpha hydroxyl acid)
salicylic acid (anti-acne treatment)
Re-Texturing Toner (contains skin brightening botanicals like kojic acid, licorice extract, bearberry root and sophora root)
Sulfur (is a naturally occurring element that absorbs excess skin oils and clears blemishes while cooling and calming redness and irritation)
What is the Proactiv Plus Smart Target Technology?
Proactiv Plus is a re-formulated version of popular Proactiv Solution Acne Treatment Program.  The original Proactiv used benzoyl peroxide as the main ingredient for removing oil and dirt from your skin.   Proactiv Plus  uses their new exclusive Smart Target® technology, which
encapsulates the benzoyl peroxide and pulls it into the pores to begin to remove dirt, bacteria and  excess oil, rather than allowing it to stay on the surface of the skin, where it can possibly irritate your skin and pores.  Proactiv Smart Target® technology is designed to deliver up to 2x more benzoyl peroxide to your pores than before, to go deep into your pores to help give you smooth, acne-free skin.
What Makes Proactiv Plus Different?
Many over-the-counter acne treatments are alcohol-based astringents, and are designed to  get rid of acne by removing surface oil and dirt only, but do not really go beneath the surface of the skin to remove trapped oil and dirt that are the causes of acne.
In fact, many of these products strip away vital oil from the surface of the skin, resulting in over-production of essential skin oil, which then results in oily skin or even more acne. The pimples you see today started as tiny microcomedones, or pre-pimples, deep inside your skin about three weeks before breaking out. Hundreds of tiny pre-pimples may be forming continuously in any of the thousands of pores on your face. Even when your skin looks clear, they may still be there—percolating invisibly under the skin's surface.
To help you get and maintain clear skin, Proactiv® helps keep these pre-pimples from forming or emerging—and that's what it means to treat chronic acne "proactively." This home acne treatment is designed for mild to moderate acne.  Proactiv Plus is made from alcohol-free astringent, finely milled benzoyl peroxide and prescription grade medication.  These ingredients are designed to go deep below the skin to clear clogged pores and gently remove excess oil and dirt from the skin without causing irritation.
Dr. Fields and Dr. Rodan recommends if your acne is severe or inflammatory and does not respond to Proactiv, you should see a dermatologist for a prescription acne treatment.
What Causes Acne?
Acne is complex condition of the skin that generally results in pimples and redness on the face, chest, back and upper arms.  Acne is generally the result of bacteria, oil or dirt that gets trapped under the skin and cloggs pores, or hormones that results in over-production of oils in the skin, which if not removed can clog pores.  Acne is caused by bacteria and over production of oil in the skin, genetics, hormones and even stress.
 
Who are Rodan and Fields
Proactiv Plus is a home acne treatment created and formulated  by Katie Rodan, MD and Kathy Fields, MD who are Stanford-educated dermatologists and currently have medical dermatology practices in San Francisco, CA and market Proactiv Plus acne treatment under the company name Rodan and Fields.
You can learn about Rodan and Fields here.  Several years ago I was actually a patient of Dr. Kathy Fields, who treated me when I had a bad skin reaction after being bitten by a spider.
ActivMember Program and Benefits
When you order Proactiv Plus, here's what you get as a member:
You are automatically enrolled in the ActivMember™ Program, where you save up to 25% on any product orders.
You will also get The Doctors' Secrets to a Lifetime of Clear Skin: by Drs. Rodan and Fields, a 68-page guide on how to get and keep the best skin of your life.
A Free 24/7 access to U.S.-based Proactiv Skin Care Advisors—by phone or email.
100% Money Back Guarantee
If, for any reason, the Proactive Plus acne treatment system fails to meet your expectations, simply return the bottles (even if empty) within 60 days of receipt for a prompt, courteous refund of your purchase price (less s/h).
How to Order Proactiv Plus?
Click here now and you will be taken to the Proactiv Website where you can order Proactiv Plus, get free shipping and a gift now.
Other Prod
Ken Weiss is a health blogger who is passionate about natural and holistic cures for men's health issues. He is the founder of menshealthcures.com