Looking for a pick-me-up that will supercharge your day with no caffeine spike and crash? Then you need to try Bulletproof Coffee.
Bulletproof Coffee is for those millions of individuals who signal the start of their day with a mug of java, but this isn't your average run-of-the-mill cup of coffee. This is a rejuvenating, seemingly magical beverage that is a secret shortcut to having a high-performance day.
Want to "bulletproof" your day and become faster, smarter, and more productive? Then the key is to boost the drink that jumpstarts your daily routine.
History of Bulletproof Coffee
The concept of this power-packed cup of coffee emerged in 2004 thanks to successful Silicon Valley entrepreneur, Dave Asprey, during a trek in Tibet.
On this trip, during a hike at 18,000 feet above sea level, Dave found his energy quickly plummeting.
Looking for a place to rest, Dave stumbled into a guest house where a local would offer him a cup of yak butter tea. Yak butter tea is a necessity for many cultures who live in such rugged, high altitudes.
Instantly feeling rejuvenated, Dave went on to finish his trek. The immediate effects of the yak butter tea would inspire him to refine the basic recipe he discovered in Tibet. After years of research, Bulletproof Coffee was introduced to the world in 2009.
What is Bulletproof Coffee?
Bulletproof Coffee is incredibly easy to make. It consists of only three ingredients: coffee, butter, and oil.
However, not every Bulletproof Coffee is made equal. It all comes down to the quality of ingredients.
To get the most out of the energy-igniting beverage, you need to use Certified Clean Coffee Beans, grass-fed butter, and Brain Octane Oil.
Substituting these ingredients for subpar replacements means you won't get all the energy-boosting benefits of Bulletproof Coffee.  Quality definitely matters when it comes to recreating this rejuvenating drink.
Benefits of Bulletproof Coffee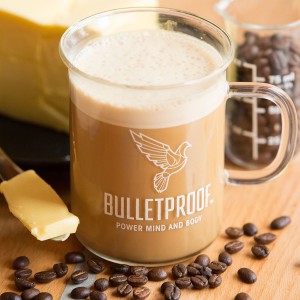 Whether you're a morning person or a slow riser, Bulletproof Coffee is well-equipped to give you sustained energy throughout the day.
Using the specific ingredients above will also provide your body with a whole host of health benefits, such as:
Improved mood
Increased, steady-lasting energy
Suppressed hunger
Boost to your metabolic rate
Increased physical endurance
Mental clarity
Not only is Bulletproof Coffee nourishing and good for you, it's also easy to whip up, making it a satisfying breakfast for those on-the-go.
Recipe for Success
Now for the fun part. To brew yourself a cup of Bulletproof Coffee at home, you'll need to:
Brew 1 cup of coffee (measure about 8 to 12 ounces); this means using filtered water with 2 ½ tablespoons of Bulletproof Coffee Beans. A French Press preserves beneficial coffee oils lost by paper filters.
Add Brain Octane Oil. If this is your first time brewing Bulletproof Coffee, start with 1 teaspoon. Gradually work your way up to 2 teaspoons over several days. Increasing the oil too quickly can result in digestive unrest.
Add 1-2 tablespoons of grass-fed or unsalted butter. For those who are lactose-intolerant, replace butter with 1-2 teaspoons of Grass-Fed Ghee.
Mix together for 20-30 seconds in a blender until everything mixes well and looks like a creamy latte.
To get the maximum benefits from your buttered coffee brew, use the exact ingredients outlined in the recipe above. Other ingredients just won't cut it.
For example, replacing Brain Octane Oil with coconut oil will reduce your body's ability to raise ketones. Ketones are a collection of fuels that your brain uses to boost your metabolic rate and mental clarity.
Likewise, using anything less than grass-fed butter diminishes the effects of your Bulletproof brew. Not to mention, grass-fed butter is much healthier for you than other alternatives.
Adding Bulletproof to your morning routine
As a calorie-dense drink, Bulletproof Coffee is best enjoyed as a breakfast replacement meal.
Unlike carb-heavy breakfasts,  this coffee won't make you crash mid-morning. The use of healthy fats in the recipe instead of sugar means your blood sugar and hunger hormones are less prone to spiking.
What's more, starting your day with high octane coffee, rather than a carb-heavy breakfast typically found in most American diets, means your body is loaded with more essential nutrients and antioxidants like B vitamins, omega-3 fatty acids, beta-carotene, and others.
Eliminating distracting food cravings mainlines mental clarity, making you notably sharper at work and allowing you to perform better throughout the day.
"Bulletproofing" your day
Once you've mastered the traditional Bulletproof Coffee recipe, feel free to experiment. Try replacing the Bulletproof Coffee Beans with chai or green tea.
Both Bulletproof Chai and Bulletproof Green Tea provide your body with anti-inflammatory benefits.
Other additions that are nutrient-dense and can further kick-start your morning include:
Vanilla
Collagen
Chocolate powder
Ceylon Cinnamon
Turmeric
Experimenting with different ingredients will give you a buttered coffee recipe that perfectly suits your taste and preference.
All told, incorporating Bulletproof Coffee into your day may make you feel like a superhero before your day even begins.
Author Bio
Dave Asprey is the creator of the widely popular Bulletproof Coffee, host of the #1 health podcast, Bulletproof Radio, and author of the New York Times bestselling book, "The Bulletproof Diet."
Through his work, the Silicon Valley investor and technology entrepreneur provides information, techniques and keys to taking control of and improving your biochemistry, your body and your mind so they work in unison.
He wants to help you execute at levels far beyond what you'd expect, without burning out, getting sick, or allowing stress to control your decisions.