Bell Ezee Flow Prostate Tea is a unique natural product for men who have frequent bathroom trips, due to symptoms of BPH.  Just drink a cup of this delicious prostate tea to eliminate urine frequency at night naturally.
This is delicious natural prostate tea is made with 100% herbal ingredients, including includes chamomile, saw palmetto and stinging nettle. Bell Ezee Flow Tea, which does not require a prescription to purchase, is developed to improve weak urine stream so you can fully empty your bladder,  so you can finally end those annoying frequent late night bathroom trips for good.
Most men who use Bell Ezee Flow Prostate Tea, report the prostate tea begins working in as quick as 3-7 days, to reduce urine frequency in men with an enlarged prostate.
This delicious and easy to drink tea for prostate health is quite effective in relaxing tight muscles and inflammation in the urinary tract system to eliminate frequent urination in men associated with an  enlarged prostate.
This product is 100% caffeine free, it is not a diuretic and it will reduce urine frequency at night by helping you improve urine flow during the day to fully empty your bladder.
Can you Drinking Prostate Tea Improve Prostate Health?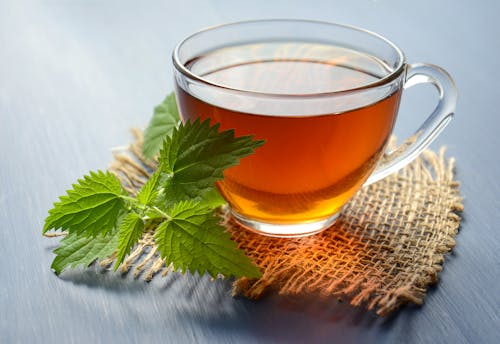 Bell Prostate Tea is made with an infusion of 12 herbs and natural ingredients common in Asian and Ayurvedic medicine.  They have been documented to cure many enlarged prostate symptoms, including:
Pain and discomfort of an enlarged prostate
Eliminates bacterial infection
Improves weak urine stream
Helps shrink an enlarged prostate
In Ayurvedic medicine dating back 5,000 years, people have found natural relief from many common health problems using plant and herbal remedies. Herbal ingredients naturally balance your body's systems with antioxidants.  They reverse the damaging effects of free radicals using.
With Bell Eeze Flow Prostate Tea, men report relief of their symptom of BPH, such as weak urine stream within 3-7 days, vs 2-4 weeks with many other natural BPH treatments.
Put Down the Coffee Cup and Pick up a Tea Cup
It's time to put down the coffee cup and pick up a cup of Bell Eeze Flow Prostate Tea. Bell Prostate Tea is formulated to end the annoying late night urinary frequency problems faced by men with an enlarged prostate, bladder infection or other urinary tract issues.
Bell Prostate Tea is 10% caffeine free, so it is not a diuretic. It won't exacerbate your annoying BPH symptoms, the way coffee does.
The effective herbal ingredients, including:
Chamomile
Cinnamon
Siberian ginseng
Saw palmetto
stinging nettle
These natural ingredients help eliminate painful and annoying urinary frequency problems associated with an enlarged prostate or bladder infection, one sip at a time.
It is well documented that drinking coffee has been shown in several studies to prevent prostate cancer, but caffeine also increases urine production, which is the leading culprit in exacerbating your BPH symptoms, and Bell Prostate Tea is a 100% caffeine free BPH Treatment to eliminate  frequent urination in men, especially at night, so you can get a good night's sleep.
Caffeine is a diuretic and has been shown to aggravate an already overactive bladder.  As men age their prostate gland naturally grows, which can put pressure on the urethra, the tube that empties urine from the bladder, and leads to a weak urine stream and problems fully emptying your bladder.
What's In Bell Ezee Flow Tea?
Bell Prostate Tea includes most of the effective natural herbal indigents known to:
stop weak urine stream and frequent late night bathroom trips.
promote prostate health.
reduce prostate inflammation
eliminates the bacterial infection that leads to an enlarged prostate
Ingredients include:
Chamomile –
a daisy-like plant that has been used thousands of years as an herbal remedy. This is an analgesic and mild sedative, which can promote natural pain relief for men with an enlarged prostate or prostate infection.
Cinnamon –
this is not just a spice for your food, but in fact has been used in Asian holistic medicine for thousands of years. It treats many health issues, including symptoms of Type 2 Diabetes, LDL Cholesterol, high blood pressure and bacterial infection.
Cranberry – 
a delicious tart little berry found in juice, it has amazing healing properties.  Cranberry is a potent antioxidant that prevents bacteria that causes prostate infection from adhering to the lining of the urinary tract, and helping to improve urine flow.
Damiana –
You have probably never heard of Damiana, a shrub native to Central and South America.  his plant has antibacterial properties, and the flavanoids have been demonstrated to improve sexual function in men with erectile dysfunction.
Willow Flower –
This small pink flower has some impressive medicinal properties.  The leaves have been steeped into a tea in Eastern Europe for years an effective natural BPH treatment.  The leaves are a natural source of quercetin and B-Sitosterol, two compounds known to shrink an enlarged prostate, relieve pain and improve urine flow, without the side effects of prescription prostate medications.
Red Peony –
A strikingly beautiful rose-like red flower.  This popular flower is used in Chinese herbal remedies to help reduce inflammation of the prostate gland.  Eliminates chronic and acute prostate gland infection or swelling.  Improves urine flow problems, such as dribbling or painful urination, and painful testicles.  
Saw Palmetto – 
A green bush found growing wild in the US and Europe that has emerged as the most popular and effective natural ingredient to help with a host of prostate problems, including: shrinking an enlarged prostate, improving weak urine flow and eliminating the pain and discomfort associated with prostate infection.
Stinging Nettle –  
Nettle root has many medicinal properties and has been used since Medieval times as a treatment for prostate problems.  The plant actually has little spines, called hairs, that sting when touched, but have a unique healing property when ingested.
The stinging hairs, known as trichomes, inject a number of chemicals such as histamine, acetylcholine, leukotrienes, and serotonin into the skin and found to be an effective natural treatment for benign prostatic hyperplasia (BPH), arthritis, and high blood pressure.  
In addition to the leaves, the root contains the essential bioactive phytochemicals that are responsible for alleviating the symptoms of BPH.
How Does Bell Ezee Flow Prostate Tea Work?
Bell Prostate Eeze Flow Tea is so easy to use. The unique blend of herbal ingredients attack your enlarged prostate problems in several ways. The ingredients in this natural PBH treatment eliminate urine frequency, due to bacterial infection, common in men with bladder problems and prostate infection.
Bacterial infection leads to swelling, inflammation and pain in the prostatic tissue, bladder, and urinary tract to improve weak urine stream. The all natural herbal ingredients also help shrink an enlarged and painful prostate gland, which relieves pressure on the urethra, and allows for normal urine flow to resume.
It is recommends that you drink 2 cups daily until you achieve the desired results.  Then, you can enjoy 1 cup per day for prostate health maintenance.
To ensure best results, you should follow the manufacturer's instructions, unless directed otherwise by  doctor or herbal medicine specialist.
This product can be taken with food or on an empty stomach.
The only drawback I found for Bell Eeze Flow Tea is that you have to measure out the tea, it is not in individual tea bags.  Many high quality teas are sold in loose leaf bags and not in throw away tea bags.  While they recommend making enough for a few days at a time, if you buy a tea infuser, which can be purchased here or at many stores, you can make one-two cups per day with ease and not be hassled to make a large pitcher of tea.
Benefits of Bell Prostate Ezee Flow Tea
Reduces urinary frequency.
Eliminates weak urine flow.
Combines the power of 12 different herbs known for centuries to reduce inflammation, shrink an enlarged prostate and improve

weak urine stream

, common in men with BPH.
Comes in easy-brew tea bags for quick steeping into a delicious cold or hot tea.
Tastes delicious iced or hot – something you'll look forward to as part of your morning routine.
100% Satisfaction Guaranteed – Return unused portion within 90 days for a full refund (minus shipping and handling)
Bell Ezee Flow was developed by Bell Lifestyle Products' founder Nick Jerch to help those  dealing with the burning and dribbling effects of urinary issues.  In fact, before he shared this masterful formula, it was first created for his own personal use.
What are the Side Effects of  Bell Eeze Flow Tea?
Since Bell Ezee Flow Tea is 100% natural and organic, there are no known side effects.  However, if you notice an allergic reaction, discontinue use.
What is the Return Policy?
If you are not 100% satisfied with Bell Ezee Flow Tea, you may return the product to Bell Lifestyle Products.  You must return the unused portion within 90 days for a full refund (minus shipping and handling).  Please keep your receipt to show proof of purchase.
What are People Saying About Bell Ezee Flow Tea?
I'm telling all my friends about Bell Ezee Flow Tea #4a!
I had excellent results with Bell tea #4a after drinking it for 3 weeks.
Larry Ferris
A cousin, who is a licensed CCN, told me to try this tea. I did not believe that a tea would work. I made my local store carry it. 
Ira Batt
Within 6 weeks the tea made a difference.!
Robert Grace
I've had BPH for about 12 years and have used this tea for probably half that time, and I can tell you that it really works. I've tried many of the health food store saw palmetto based formulas in capsules and also have tried a couple of the well-advertised prostate formulas, and none has worked nearly as well as this tea.
Jim Brady
My husband (65 at the time) was having difficulty urinating. His stream was a trickle at best. Went to Surgeon. Was told the only remedy was surgery but possibly could lose his ability for erection. A friend of mine told me her husband had had prostate cancer and was advised to use this tea. I purchased it because we felt we were out of options. Within 3 days of only drinking 8oz in the morning my husband had a full stream.
H. Maikranz
I did not achieve the results claimed, but there was definite and noticeable improvement so I am a satisfied customer.
Ed
Where Can You Buy Bell Prostate Ezee Flow Tea?
While there are many places you can buy Bell Prostate Ezee Flow Tea, our research indicates the following online stores have the best price for this unique natural BPH treatment designed to reduce frequent urination in men related to prostate problems.
Amazon.com.  The Amazon seller we have selected does not charge sales tax for this product.