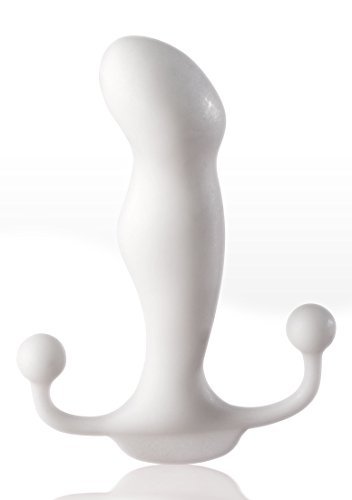 Aneros Progasm is the go to prostate stimulator to rock your world, and give men an intensely pleasurable prostate massage experience.  The
Progasm is the largest of the prostate stimulators from Aneros, the award winning manufacturer of sex toys for men and women.
This prostate stimulator is definitely not for beginners.  We recommend the
Aneros MGX
for men who are new to prostate stimulation.  It's a little smaller, and easier to use.
If you have experience with prostate massage and are looking for something to give you a fuller experience, the Progasm may just be for you.
Use plenty of lube and go slow at first, until your muscles can take take it in.
While the Progasm is massaging your prostate, the kundalini "K-tabs" simultaneously provides stimulating sensations
massage of your
root chakra
located in the base of your spine, which is the Indian term for life force.  The other end of the K-Tab hits your perineum, the highly sensitive area between your scrotum and rectum, adding complementary pleasurable sensations to enhance your prostate massage experience.
What About a Prostate Orgasm
During personal prostate massage therapy or sexual intercourse,  you can use this popular male sex toy to achieve a pleasurable prostate orgasm, which is known to be several times more intense than an orgasm during sexual intercourse, heighten intimacy during foreplay, or give your lovemaking a new kinky twist.
The 

 Aneros Progasm
is different from any other prostate massager on the market, because it includes two unique features unavailable on most other prostate massagers – a perineum tab on one end to simultaneously stimulate the perineum, which is the highly sensitive area between the base of your penis and rectum.
In this review of the Aneros Progasm, you will learn:
What is prostate milking.
What is the Aneros Progasm.
How this amazing prostate stimulator works.
Benefits of prostate massage.
and finally where you can find the best deal on the
Aneros Progasm, as well as, the full line of Adult sex toys for men and women.
Where is the Prostate Gland Anyway?
The prostate gland is a small walnut-shaped gland that is located between your bladder and rectum.
Many men who use this popular prostate massager from
Aneros report that they achieved a pleasurable prostate orgasm.
This sends intensely pleasurable stimulating sensations up and down their spine, and is significantly more intense than an orgasm during sexual intercourse
How Big is the Aneros Progasm?
The Progasm is the largest of all the Aneros prosate massagers:
Tip Width:

1 15/16 inches .

Mid-Ridge Width:

15/16 inches.

Stem to Perineum Distance:

1 3/4 inches.

Insertable Length:

4 inches.
How Does the Aneros Prostate Massage Work?
In this video, you will learn about and how to use the Aneros Progasm for prostate stimulation.
Aneros Progasm Facts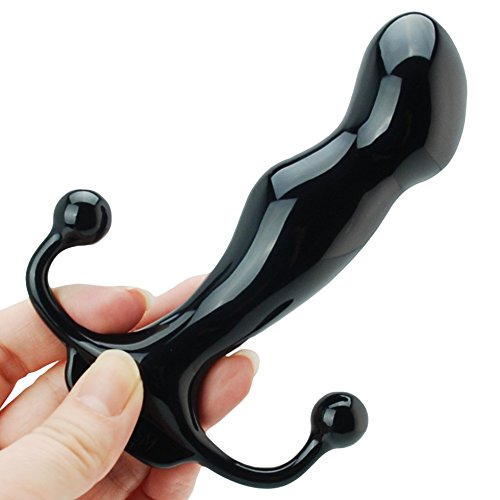 The
Aneros Progasm, available 
Here,  is the largest prostate massager from Aneros, one of the leading makers of prostate massagers and male sex toys.
It is designed to provide a robust prostate massage, and can help men achieve a mind blowing prostate orgasm.
The Aneros Progasm is made in the US from FDA approved medical grade materials.
Is the largest Aneros prostate stimulator to date.
Four and a half (4-1/2) inches long and one and a quarter (1-1/4) inches wide at the head. Yet for its large size is still incredibly agile.
This prostate stimulator features a newly designed round perineum tab to simultaneously massage the prostate and stimulate the perineum.
Boasts a Kundalini "K-Tab, which adds sensations up and down your back.  Kundalini is the Indian yoga term for your life energy that travels up your spine.
Despite its large size, the Aneros Progasm moves inside the man's body easily to provide a robust prostate massage for incredible pleasure, and will take you to incredible new heights of sexual pleasure.
 Is Bigger Really Better?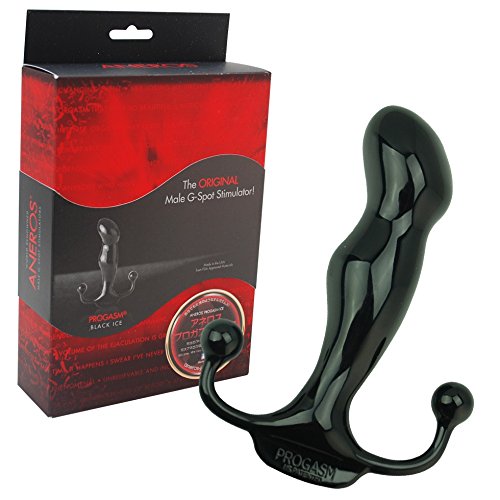 The
Aneros Progasm is the largest prostate massager to date from Aneros,  at 4.5″ long and a large 1-1/4″  wide head.
This prostate massager has a wider body and head than other prostate massagers.
This prostate massager is designed to really get in there and provide a robust stimulation of the perineum and prostate gland.
Most men who use the Aneros Progasm report achieving the best prostate  massage they have ever received, and released more semen and prostatic fluid.
If you want a hot time to last longer in bed, try the
Progasm Ice, which looks like it is sculpted from a block of ice.
Many men who are experienced with prostate milking rave about the new larger size of the Progasm, and the amazing prostate orgasms they have achieved.
What is the Best Prostate Stimulator for Beginners?
If you are new to prostate stimulation, the Aneros MGX or Aneros Helix is the best prostate massager for beginners.
The smaller and slimmer design of these entry level prostate massagers is perfect for new users of prostate stimulation to allow your body and muscles to get adapted, without pain or discomfort.
With time and practice, your muscles will learn how to maneuver the prostate massager to your P-spot.
You will be able to work up to the larger Aneros Progasm, without any pain or discomfort. You'll wonder why you waited so longer to enjoy the pleasure and sensations of prostate massage.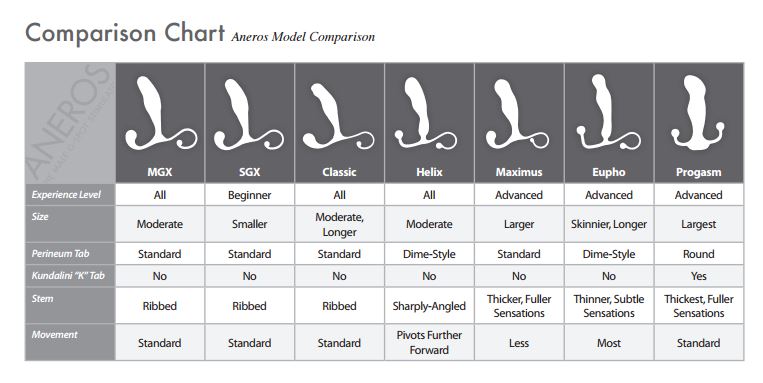 What's Your Favorite Color:
Aneros Progasm Jr.
You'll love the Aneros Progasm Jr.  if you like the features of the full size Aneros Progasm, but feel the large size is a bit too intimating.
The Aneros Progasm Jr. measures  3.6 inches long, about 1 inch shorter than the larger full size prostate massager.  This is measured from the tip to just above the kundalini tip, which is perfect for average size men 5'5″ to 5'9″ tall.
This slightly smaller prostate massager, which is about 30% smaller, offers the same features, function and benefits of the original Aneros Progasm, including perineum stimulator and Kundalini K-tab, just in a smaller package.
The Aneros Progasm Jr., available here will allow men of all shapes, sizes and height to enjoy the robust prostate massage Aneros is famous for.
Benefits of the new K-Tab for Prostate Massage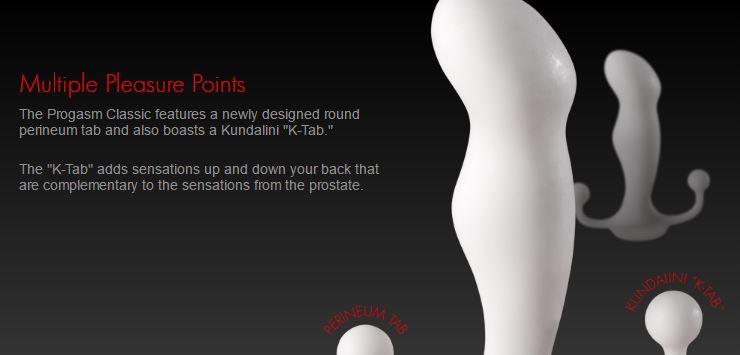 The Kundalini "K-Tab" is a new addition to the patented design of the Aneros Progasm.
For those unfamiliar with Indian meditation, kundalini is your spiritual awareness and life force. The "K-Tab" is designed to stimulate the spot just under the tailbone, called the root chakra.
Chakras are your body's seven energy centers that follow along the spine from the tailbone to the top of the head.
Stimulating the kundalini is a method to awaken sexual stimulation and excitement within the reproductive organs of the male body.
Aneros understood this relationship when they incorporated the "K-Tab" into the Progasm.
The Aneros Progasm is Not a Prostate Stimulator For Beginners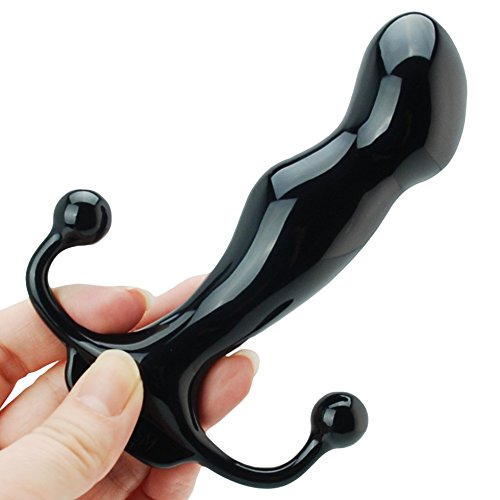 The only drawback of this adult sex toy  from Aneros is that due to its large size, the Progasm is definitely reserved for experienced users of prostate stimulation.
Also, this male sex toy should not be used by men with an enlarged prostate or by men with acute prostatitis, as the deep penetration of the Aneros Progasm may cause irritation of the prostatic tissue, or release toxic bacteria into the body.
Prostate stimulation should not be performed on men with prostate cancer, due to the risk of releasing cancerous prostate cells into the body, except under direction of a medical professional.
Don't Forget the Lube
When you buy an Aneros Progasm, make sure you use a water based lubricant
to ensure you have a safe and enjoyable prostate massage experience.
You can buy a lubricant perfect for prostate massage at Amazon.com.
What are Satisfied Aneros Progasm users saying?
» Don't let the large size scare you. I have used the orginal aneros for serveral years for prostate health and found it slow to get pleasure. Just did not feel like reached all of the prostate. I'm a tall man (6'1″) so the longer length of the progasm helps it "hit my spot".  
The wider head and device just feels better on the prostate, a more even massage. The prograsm massages the prostate more easily and yes with more enjoyable sensation. Just be slow to insert and relax your lower back muscles.
I have had low back surgeries and have tight muscles. Using the progasm has helped me learn to relax and control my low back muscles better. If you are interested in pleasure and prostate health, you may like this aneros better that the smaller ones.
»  This device really sensitizes your erogenous zones. I have had problems reaching orgasm during intercourse, but with the Aneros in place, thereis no problem. For extra sensations, I work it in and out with my hand for better prostate massage. A fan, 71 years young.
»  WOW ! Amazing! I got this for prostate issues, not expecting anything beyond that. And at first is was difficult and not comfortable. But it did deal with the prostate as the maker claims.
When with use over a week I got over the uncomfortable feeling, and with exercise, practice and relaxation those so called "Big O's" started. They came with it inserted, then even after. The experience is not exactly like sex, but very similar to the rushes that certain drugs might induce. In fact, beyond sex or drugs. It simply amazes me what the prostate gland can do to ones psyche.
I was quite hesitant, and embarrassed to put a public rating on this device as it is described as a "sex toy"– But it is really MUCH MORE than that. It certainly delivers the best rushes I have ever had– Even hours after use! All the while stimulating my 60 year old prostate gland.
»  I had a smaller Aneros (MGX I think) that I got about a year ago and it was okay, but didn't really do much for me other than being something exciting and new. I got the Progasm about a month ago and right away it was a huge difference.
It is quite a bit larger, so some experience and/or practice is needed, but once its in place (and there's enough lube), it is an amazing experience. So far I haven't been able to come "hands off", but I've gotten pretty close and I think I can do it with some practice.
I was a little bit afraid of the two little arms/probe things being a nuisance or uncomfortable (was the case with the MGX), but with this one they really add to the sensation. I definitely recommend this product if you want to try something new and are looking for added pleasure.
» I've faithfully used the progasm classic for years but I've always wished it was smaller, and in my case I have to tell ya–Smaller Rocks — for me at least it does.
»  It's soo mobile, and contacts the prostate perfectly! I am about five foot ten inches in height and the progasm was a bit big for me but this is PERFECT. Thank you !!
»  I've tried several other models, sgx,helix and the Original Progasm while they were all pleasant I've come much further with the Jr. in just a couple sessions. Obviously larger than the sgx and the helix, but more comfortable than the Progasm, I find it much easier to hold than the Progasm allowing for what seems like far better movement.
Where can you buy the Aneros Progasm?
Our research indicates that Amazon.com offers the full line of Aneros Prostate Massagers, and offers the best price on the internet for this amazing male sex toy.
Just click a link below to learn more about each Aneros model and how to buy one to increase your sexual pleasure.
In addition to saving money on the price of the Aneros Progasm,  Amazon.com offers a free shipping option to save you money over other online sellers.
Books on Prostate Massage
These are excellent resources for men and women who are new to prostate massage, to learn what prostate massage is, what is doe, how to do it, and how you can incorporate prostate massage into the bedroom.
Ken Weiss is a health blogger who is passionate about natural and holistic cures for men's health issues. He is the founder of menshealthcures.com