Grab-and-go breakfasts, packed lunches and family dinners fit nicely into the structure of the school year. But when summer hits, family routines fly out the window and makes eating healthy a challenge.  This is a great opportunity to ensure you are eating healthy as summer winds down.   Lunches are replaced with hot-weather snacks, and sit-down dinners turn into backyard picnics when temperatures creep toward the triple digits.
Did this routine tank your family's healthy eating habits over the summer? Left to their own devices, many kids will choose junk food over healthy snacks. And when it's too hot to cook or you're on the road, convenience makes fast food look like an attractive option.
Despite the challenges of life and daily work stressors, maintaining your family's healthy eating as summer turns into fall is totally doable (even if you're a busy entrepreneur) — and it doesn't require sweating in a hot kitchen. Use these tips courtesy of Men's Health Cures to keep your family eating well no matter your summer plans.
Here are 3 Tips for Eating Healthy As Summer Winds Down
1. Pack Travel Food
Whether you're road-tripping across the country or catching a flight, a bag full of snacks is your best friend. When you're prepared with healthy snacks, you don't have to waste money on overpriced airport food or end up with a car full of upset stomachs after a fast-food pit stop.
When traveling by plane, stick to dry foods as liquids larger than 3.4 ounces can't be taken through airport security.
These are some great options for your next flight:
Fresh fruit: Pack fruit not prone to bruising, such as clementines, rather than soft fruit like bananas or peaches.
Crackers and cheese: The Dairy Council of California notes that whole grain crackers and slices of cheese are perfect when cravings hit.
Jerky: Need a protein punch? Whether beef, salmon or another protein source, jerky is a great source of energy on the go. Follow Eat This, Not That's advice and shop for jerky with lower amounts of sodium and sugar — or make your own!
A refillable water bottle: You can't take water through airport security, but you can pack an empty bottle and fill it inside the airport.
Packing up the family car instead? In addition to the above snacks to ensure you are eating healthy, pack a cooler with sandwiches, applesauce or yogurt cups, and sliced fresh vegetables with hummus for roadside meal breaks.
2. Prep Cold Meals
You don't want to toil away in the kitchen, but you have to eat. The solution? Chilled meals you can prepare in advance, so all you have to do at mealtime is serve and enjoy.
These cold meals are ideal for just that:
Bologna wraps: Sliced bologna, arugula and tomato accented with light mayonnaise makes a great on-the-go snack that even picky eaters will love.
Chicken, tuna or egg salad: For a quick lunch the kids can assemble themselves, pair one of these sandwich salads with 100-percent whole-grain
Bean salad: Whether you're using chickpeas, black beans, lentils or another legume, bean salads are a great way to get your fill of protein and fiber, and they're tasty, too! Check out Serious Eats for some winning combinations.
Guacamole: For a healthier version of guacamole that improves your gut health, try adding sauerkraut to your recipe.
3. Have a Backyard Grill Out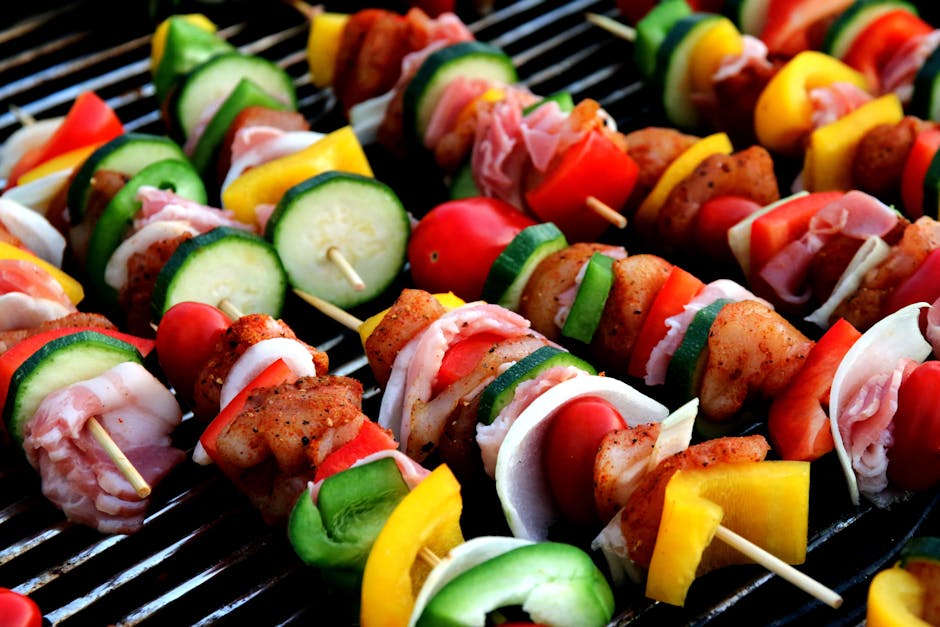 Too hot to cook in the kitchen? Fire up the grill instead for healthy eating options! Whether you're cooking up some burgers, meat and veggie skewers, or even watermelon steaks, grilling is the epitome of summer eating. These main- and side-dish recipes are sure to be crowd pleasers.
Here are some great grilling options
Steak and pineapple skewers: Savory and sweet is the best combo after a hot day outdoors, and skewers turn a healthy meal into a fun treat for kids.
Carrot fries: Who said fries have to be unhealthy? The grill perfectly chars thick-cut carrots, which pair great with a chipotle lime aioli dip.
Grilled peach salad: Tossed with basil, goat cheese and fresh greens, this summer salad nearly doubles as a dessert.
If you don't want to spend time behind a hot grill, try a wood pellet smoker.
You  can smoke meat, chicken, or fish in a wood pellet smoker.
You can use different flavor wood pellets.
You can set the smoker and walk away.
Conclusion
Feeding your family healthy meals is well worth the effort for eating healthy, even if you've got a full schedule. With these healthy eating tips and a grocery list full of fresh, seasonal foods, your family will have the energy to make the most of summer fun.
Men's Health Cures is a natural men's health blog created in 2010, that provides product reviews and articles on natural products for men over 40. Contact us today!
Ken Weiss is a health blogger who is passionate about natural and holistic cures for men's health issues. He is the founder of menshealthcures.com