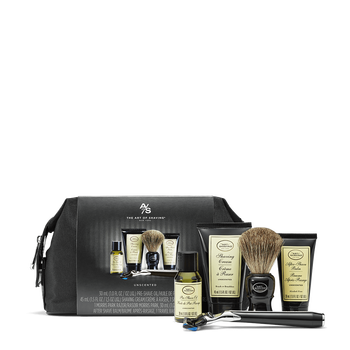 The Art of Shaving has become the best-selling brand of men's shaving products specially developed for men with sensitive skin.
Before finding Art of Shaving, I assumed dealing with the pain of razor burn, ingrown hairs, and cuts and nicks on my face and neck was just a reality when you have sensitive skin. I wondered if shaving sensitive skin meant using a styptic pencil or sticking pieces of tissue to my face to stop the bleeding.
To achieve The Perfect Shave, which is creatively the name of the signature product, 4 Elements of The Perfect Shave, includes high quality men's shaving and grooming products formulated using 100% pure essential oils, and high quality botanical ingredients.
These unique shaving products for men help give men a smooth shave without razor burn, nicks and cuts on your face and neck.
Features:
(1) Unscented Pre-Shave Oil (1 oz)
(1) Unscented Shaving Cream (1.5 oz)
(1) Jet Black Morris Park 5 Blade Razor
(1) Black Genuine Badger Shaving Brush

Pre-Shave Oil
The Art of Shaving Pre-Shave Oil helps prepare your face before shaving. The essential oils in this product achieve two important objectives for men with sensitive skin.
First, it helps your facial hair and stubble stand up straight so that your razor can get underneath the hair to efficiently and completely remove the hair, and prevents in-grown hairs from forming underneath your skin.
Second, the essential oils lubricate your face to allow the razor to glide across your face and prevents painful razor burn, nicks and cuts while leaving your face smooth.
The 4 Elements of The Perfect Shave combine The Art of Shaving's high quality shaving products for men, handcrafted accessories and expert shaving technique to provide optimal shaving results while helping against ingrown hairs, razor burn, and nicks and cuts.
The pre-shave oil comes in unscented, sandalwood, lavender, lemon, peppermint, eucalyptus, and a few special holiday scents.
Shaving Cream
The Art of Shaving Shaving Cream softens and lifts your beard for a close and comfortable shave. The essential oils protect the skin from irritation and razor burn.
Rich with glycerin, coconut oil and essential oils, the shaving cream leaves your skin smooth and moisturized. It can be lathered up with a badger shaving brush or with your fingers.
The shaving cream comes in unscented, sandalwood, lavender, lemon, peppermint, eucalyptus, and a few special holiday scents.
Badger Hair Shaving Cream Brush
Most men apply a large glop of shaving cream with their hand to their face before shaving.
The Art of Shaving badger hair shaving brush is not just a luxurious addition to men's shaving, it actually offers several key benefits you probably never considered.
A shaving brush allows you to apply an even layer of shaving cream to every crevice of your face.
The shaving cream is concentrated, so you just apply a small amount to the warm and wet shaving brush. It generates a rich and warm lather by retaining warm water, which helps soften and lift your beard hair for a close shave.
In addition, the Art of Shaving pure badger hair shaving brush is naturally antibacterial. Once you use the Art of Shaving pure badger hair shaving brush, you'll wonder why you waited so long.
After Shave
A lot of men ignore this final step in your daily shaving routine, but this step should not be overlooked.
As the final step in The 4 Elements of The Perfect Shave, the After-Shave Balm is an essential part in achieving The Perfect Shave.
Formulated with moisturizers, the highest quality botanical ingredients and pure essential oils and extracts, the Art of Shaving After-Shave Balm helps replenish moisture to soothe dry skin after shaving.
Benefits:
Formulated with Shea Butter, Jojoba Oil, Chondrus Crispus (Irish Moss) and Centella Asiatica Extract (Gotu Kola).
A touch of Grape Seed Extract helps revitalize the skin, while Essential Oils help condition the skin.
Contains Glycerin and Essential Oils
Formulated without synthetic dyes and alcohol
Moisturizes and softens your skin
Helps restore skin elasticity and reduce the appearance of aging
Dermatologist tested
Clinically Tested
Non-Comedogenic
What's Your Scent?
Art of Shaving offers their classic scents, unscented, lavender, lemon and sandalwood. My favorite has always been lemon. Sandalwood is a bit too musky for me and lavender is a bit too perfumy for me.
In addition to the classic scents that are their trademark, Art of Shaving has added several knew scents, such as Bergemot Neroli, peppermint and limited edition holiday scents.
Art of Shaving Shavers
What you put on your face it only half the equation to getting the perfect shave. The other half of the equation is what you use to shave your face with.
Many men have an aversion to spending more than $5 on razors. The Art of Shaving razors are not cheap, but once you use one you will quickly see and feel the difference between a high quality shaver and a cheap plastic shaver.
These men's shavers are well made, feel balanced in your hand, and almost seem like an extension of your hand as it glides across your face. The appliance moves along the contour and angles of your face, to give you the perfect shave.
Straight Razor
Safety Razor
3 Blade
5 Blade
5 Blade Electric Razor
Ken Weiss is a health blogger who is passionate about natural and holistic cures for men's health issues. He is the founder of menshealthcures.com