Mental Impotence Healer, is a 30-day Mental Erectile Dysfunction treatment program that uses guided imagery combined with relaxing Theta Brainwave music, to help men overcome the symptoms of erectile dysfunction, known clinically as psychological impotence.
This is a frustrating male sexual dysfunction that can prevent a male from enjoying healthy sexual relationships, due to mental issues that can prevent a man from achieving or maintain an erection suitable for sexual intercourse.
Statistics show that 20% of American men suffer from psychological impotence.  There are two types of erectile dysfunction:
biologenic erectile dysfunction
psychological erectile dysfunction
Biogenic impotecne is the form of this sexual dysfunction you mostly her about, which is the form of impotence related to a lack of blood flow to the penis, often due to heart disease, high blood pressure, Type 2 Diabetes, obesity, age or lifestyle issues.
Mental erectile dysfunction, also known as psychological impotence, is the form of erectile dysfunction that is often the result stress, anxiety, depression or inexperienced in relationships and sexual intercourse.  Rather than being due to a lack of blood flow or health issues, this form of erectile dysfunction is the result of the release of stress hormones, cortisol and adrenaline, that block signals of libido or sexual desire from reaching the penis to cause an erection.
This form of erectile dysfunction  tends to respond well to stress relief techniques, such as  guided imagery, relaxation, and meditation, Theta Brainwave music, and sex therapy for more serious conditions.
Pills and supplements are often an ineffective treatment for mental impotence, since the root cause of this form of erectile dysfunction is stress and anxiety, which results in the release of stress hormones that causes erection problems.
"People who suffer from psychological impotence can get an erection, but they lose it under a stressful situation."
What is Mental Impotence?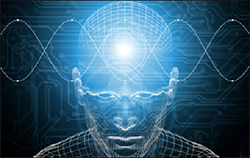 Mental impotence is not caused by a lack of blood flow to the penis, but rather, is due to the release of stress hormones, usually in response to:
Performance anxiety.
Fear of not being able to perform sexually, due to being new to sex or starting a new sexual relationship.
Personal or financial stress and anxiety.
Anxiety after having temporary erectile dysfunction that millions of men face.
Lack of self esteem.
Under normal situations, when the stressful issue is resolved, hormone levels in the body quickly return to normal and regular sexual function resumes. In case of a male having mental impotence, the release of stress hormones can become chronic, meaning due to on-going stressful situations, the mind and body perceives it is constantly under attack, and will continually release stress hormones as a defense mechanism; thus leading to to a state of chronic mental impotence, which until resolved prevents a man from enjoying normal sexual function.
In other cases when a man is about to engage in sexual intercourse, but in response to fear and anxiety related to his performance anxiety, previous negative sexual encounters, or other conscious or subconscious issues that can impact his performance or self esteem, he is unable to get or maintain an erection suitable for sexual inercourse.
with assistance, using the Mental Impotence Healer program, this condition can be reversed naturally using  guided imagery and theta brainwave technology, that subconsciously reprograms the mind to eliminate the "perceived threats" to the body and reduces stress and anxiety about sexual performance, which reduces hormone levels to normal and allows normal sexual function to resume.
Subconsciously means you don't see, feel or hear the changes and benefits of the reprogramming, rather when you engage in sexual encounters due to the reduction of stress, you will be able to get a rock hard erection that will last and you can perform like you should.
The creator of this ED program says Mental Impotence Healer is guaranteed to eliminate your mental erectile dysfunction or sexual anxiety forever.
Common Causes of Mental Impotence
Personal or work-related stress or anxiety
Performance anxiety due to past sexual performance issues or being new to a sexual relationship
Fear of not being able to perform sexually or you "won't be able to satisfy her."
You may be one of the millions of men with temporary erectile dysfunction in the past, which can lead to chronic erectile dysfunction.
The human body reacts differently to stress and anxiety.  Stress and anxiety can make the body feel it is under attack,  known as fight or flight and releases the stress hormones cortisol and adrenaline in preparation to fight or run, the way our prehistoric ancestors did.
The stress response due to the inability to perform sexually, can trigger the same reaction in the brain and body when it is prepared to fight or flight in an act of self preservation.
If you have erectile dysfunction, the fear of not being able to perform or the fear you will be rejected, can cause the continual release of the stress hormones cortisol and adrenaline, which can lead to chronic erectile dysfunction.
The good news is that once you can turn off the chronic mental erectile dysfunction with Mental Impotence Healer, the hormone levels will return to normal levels and your normal sexual function will return.
Why Use Guided Imagery to Reverse Mental Impotence?
If you wake up in the morning with an erection, or you are able to get an erection by yourself, or while watching or reading erotic material, but you have trouble getting or maintaining an erection when you are with a woman, your issue may be due to mental impotence.
The Mental Impotence Healer is a 100% all natural mental erectile dysfunction treatment that contains a 20-minute digitally mastered MP3 you can listen to on your computer, on your iPod, or Android device, that contains a powerful Guided Imagery Therapy and anxiety-releasing Theta Brainwave Music, which reprograms your mind to release stress, anxiety, performance anxiety and other issues to reverse the causes of mental impotence quickly, easily, naturally and permanently without pills or expensive psychotherapy.
Research conducted by Professor K. Kuruvilla (in 1984), available here, found that 70% of men treated with guided imagery and sexual re-education succeeded in overcoming their mental impotence
Common Mental Erectile Dysfunction Symptoms?
Inability to get or maintain an erection when with a woman.
You can get hard, but lose your erection just before penetration.
You lack confidence in the bedroom.
You can only maintain an erection during masturbation or oral sex.
You doubt your sexual performance, or have performance anxiety whenever trying to have sex with your current partner or a new sexual partner.
Low self confidence about sex.
You can get an erection, but it takes a long to achieve, and lose it right before or shortly after penetration.
You can maintain an erection by yourself, but not with a partner.
You avoid situations that can result in sex.
Difficulty developing a meaningful relationship.
You feel stress leading up to the moment.
You lose your erection or have trouble achieving an erection in stressful situations.
The good news is that is doesn't have to be this way?  By using the guided meditation Mental Impotence Healer CD for just 20 minutes a day for 30 days, you can eliminate all of these issues permanently, without the use of anti-depressants and their nasty side effects or expensive psychotherapy.
Stress and anxiety that causes Mental Impotence is usually one the following:
Work related stress and anxiety
Home life issues that cause stress or anxiety
Performance anxiety
Relationship or love issues
Fear of inadequacy
New to sexual relationship and inexperience
Not having had sex for a long time
Not being sexually aroused by your partner
Research conducted in 1984 by Professor K. Kuruvilla, Head Unit of Department of Psychiatry, Christian Medical College in Vellore, India, found that 70% of men treated with a Guided Imagery and sexual re-education tool, like Mental Impotence Healer succeeded in overcoming their symptoms of mental impotence, and were able to get an erection suitable for sexual intercourse on demand.  You can read his study on psychogenic impotence in males here.
How Does Mental Impotence Healer work to Cure Mental Erectile Dysfunction?
The Mental Impotence Healer Program is simple to use program designed to help you release the stress, anxiety, fear, worry and anxiety you have about sex and performance anxiety, so you can regain your self-esteem, and ultimately your healthy and vital sex life.
This program will:
Reprogram your conscious and subconscious beliefs about sex.
Help you overcome past sexual performance issues that can cause erectile dysfunction.
Change your feelings and emotions about sex, and relationship issues that are at the root of your erectile dysfunction.
Use guided imagery and relaxing Theta Brainwave music to lower personal or work-related stress and anxiety, which can cause erectile dysfunction.
Allow you to regain normal sexual function to again enjoy a happy healthy sex life.
You listen to the 20 minute MP3 in your Ipod, tablet or computer with headphones.  The Theta brainwave music puts you in relaxing meditative state, that opens your mind to accept the imagery meditation that reprograms your mind to naturally reverse your symptoms of mental erectile dysfunction.
Since mental erectile dysfunction is due primarily to the effects of stress and anxiety, the primary treatments for this condition are guided meditation or therapy, to eliminate the sources of stress and anxiety from the mind and body, which helps the body heal itself and allows normal sexual function to return.
Since many men are uncomfortable talking with a therapist about their sex problems or the cost can be prohibitive, relaxing Theta music and guided meditation scrips that re-program your mind to relax and naturally release the negative beliefs, feelings and emotions held in your mind about you and sex have become a popular, cost-effective and successful alternative to expensive psychotherapy that can take several sessions to reverse the symptoms of mental erectile dysfunction.
Years of documented medical research has been done on the brain and subconscious mind.  This research has confirmed that music tones at the Theta Brainwave level puts you in a relaxed and meditative state, and welcomes guided meditation scripts to change conscious and subconscious beliefs, feelings and emotions on numerous areas of physical and emotional well-being.
Why You Are Reading this Mental Impotence Healer Review
This Mental Impotence Healer Review encompasses my years of experience researching and writing about natural erectile dysfunction treatments for both biological and psychological erectile dysfunction, to educate you on your condition, and ultimately if this is the best psychological erectile dysfunction treatment for you.
As a natural men's health writer since 2010, who often writes on topics such as: natural erectile dysfunction treatments for men and spiritual healing techniques, I was intrigued to learn about Mental Impotence Healer, since it encompasses two topics I am so passionate about, and hoping to shed some light on how this natural holistic therapy technique can cure your emotional erectile dysfunction symptoms for good.
How Your Brain Waves Can Help Cure Erectile Dysfunction?
Theta Brain Waves occur when you are in a state of very deep relaxation.  This is the stage used in deep meditation, hypnosis and during the REM (rapid eye movement) sleep state.
This is where Mental Impotence Healer works to reprogram your mind to cure psychological impotence most effectively.  You simply listen to the relaxing music using Theta Waves to put you in a meditative state of relaxation and self-hypnosis, while you listen to the guided imagery and meditation that reprograms your mind and thoughts away from your current condition, to what your normal healthy self should be:
– vital
– healthy
– full of self esteem and vigor
– stress and anxiety free
– able to get a rock hard erection with ease on demand
– able to enjoy a healthy sex life
Is Guided Imagery Better Than Pills or Therapy?
Sexual Performance Anxiety or Psychological Impotence is not a physical aliment.  It's caused by anxiety. Pills may give you a temporary erection, but they won't help you get to the root of your issues.
Taking medication only treats the symptoms of erectile dysfunction, but does not get to the root cause of psychological erectile dysfunction.
Anti-depressants have unpleasant and event potentially dangerous side effects that could put your health at risk.  Worse yet, you can become dependent on the pills, and have a hard time getting an erection without them.
Guided Imagery is a safe and effective alternative to pills, psychotherapy and surgery to cure erection problems, by reprogramming your mind.
Guided imagery meditation is effective and has helped thousands of people to get rid of stress and anxiety, eliminate performance anxiety,  to change habits or change how their bodies respond to certain situations, such as having sex.
If you suffer from Psychological Impotence, then guided meditation with Mental Impotence Healer to cure mental erectile dysfunction is one of the best natural erectile dysfunction treatments.
How Much Does Mental Impotence Healer Cost?
Mental Impotence Healer is  cheaper than a therapy session or a bottle of pills.
Mental Impotence Healer available for just a single one-time  payment of $37, and will be immediately downloaded to your computer, so you can begin the program immediately.
There is no need to wait days or weeks for the program to arrive in the mail.  For your safety and privacy, you will not see the name Mental Impotence Healer on your credit card statement.
Your purchase will appear on your bank statement under the name "CLKBANK*COM
What if I don't Like It?
No, problem if you don't like Mental Impotence Healer for any reason.  You may cancel your order at any time within 60 days of your purchase to request a refund.
Just contact the seller at the email address or phone number provided on your receipt for a full 100% no questions asked refund.
Ken Weiss is a health blogger who is passionate about natural and holistic cures for men's health issues. He is the founder of menshealthcures.com