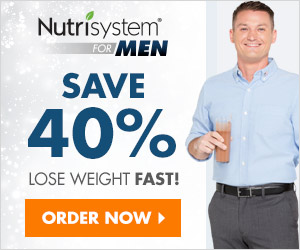 Nutrisystem for Men has been a popular weight loss program for men for over 8 years, to lose weight fast.
You have the option to select your own meals. You can also choose a pre-planned selection of favorite meals
With this program, you will receive a variety of delicious and nutritious portion-controlled meals.
You will also receive weight management tools that:
Promotes healthy weight loss
Helps burn fat
Retains vital muscle mass
With Nutrisystem for Men, you eat six small portion controlled meals per day.  This weight loss program for men will ensure you eat the right percentage of of calories, proteins and carbohydrates to achieve your desired weight management goal.
Why Choose Nutrisystem for Men 
Losing weight can be hard.  Most diet plans are one-size-fits-all.  Nutrisystem for Men is different.  This is a unique diet plan that focuses on the way men metabolize food.  This is due to men's bodies metabolize food differently than women's bodies do.
You have four weight loss programs to choose from, based on your  to maximize your weight loss goals
Nutrisystem is also a food maintenance program, that works by providing men with 6 portion controlled healthy meal options per day.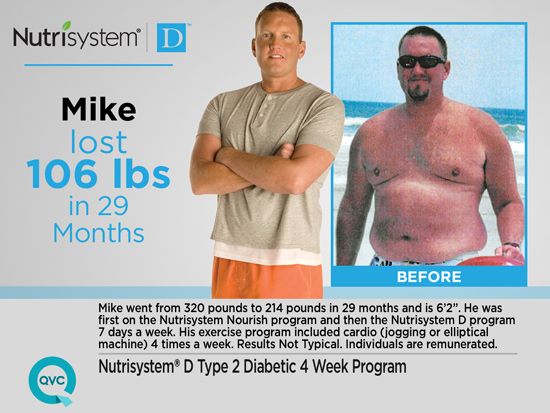 The key to a weight loss program for men, is to lose excess weight and keeping it off.  With Nutrisystem, you eat several small meals per day.  This keeps you satisfied to prevent the consumption of more calories than you need.
Many people who are overweight and desperate to lose weight, falsely  think starving their body or skip meals as a way to lose weight.  In reality, this actually creates the opposite affect.
When you starve your body or skip meals, your body perceives it is under attack, and your brain tells your body to eat more food.
When you do eat, you tend to over eat and consume too many calories.  The excess nutrients are stored as fat.  This leads to weight gain rather than weight loss in men.
With the Nutrisystem for Men system, you will eat up to six smaller portion controlled meals throughout the day, which does the following:
Eating up to six smaller meals throughout the day, promotes healthy weight loss.
When you feel satisfied, you eat less.
You lose the desire to snack in between meals.
You learn to prepare healthy food.
Teaches you how to use tools to eat portion-controlled meals in your kitchen for breakfast, lunch and dinner.
How Nutrisystem for Men Works?
Week 1
You will jump start your weight loss with Nutrisystem Turbo Takeoff.  This is a special first week of meals and snacks designed to help you quickly lose weight and burn fat!
Week 2 
You will continue to lose weight with the Nutrisystem for Men portion controlled meals and snacks.  You will begin to add a few grocery foods, which you'll add in to your meal planning.
Eat six times a day to promote greater weight loss.
Enjoy meal flexibility
With weekly meal planning, you have the opportunity to enjoy a meal out at your favorite restaurant, as ell as cook your own meals at home or with family!

What are the Nutrisystem Meal Plans
Nutrisystem for Men offers a variety of meal plans to fit your needs, your goals and your budget.
CHEF'S CHOICE—SAVE TIME ON YOUR FIRST ORDER!
Best for your first order to start losing weight fast!
You'll get a selection of the best rated meal options.
The Basic Chef's Choice is a 4-week plan that includes:
Turbo Takeoff offers a  breakfast, lunch, dinner, a shake and a snack bar each day.
A variety of customer-favorite food in the Chef's Choice for the next 3 weeks.
Chef's Choice Meal Plan is a great way to sample the menu!
To choose your own menu, try our popular Core plan
The Core I'll Pick My Meals is a 4-week plan that includes:
Turbo Takeoff is your first week on program with breakfast, lunch, dinner, a shake and a bar each day (Turbo Takeoff is not customizable).
Your choice of customer-favorite food for the next 3 weeks.  You pick meals from our entire Core menu of 100 items.
If you choose the Core I'll Pick My Meals program, you'll be prompted to start choosing your food during the checkout process. Learn more about Core here!
Or you can choose to customize the Basic plan for an additional $25.00.
Click Here to learn more and select the Nutrisystem for Men plan that is best for you.
Nutrisystem for Men Meal Plan Options
Breakfast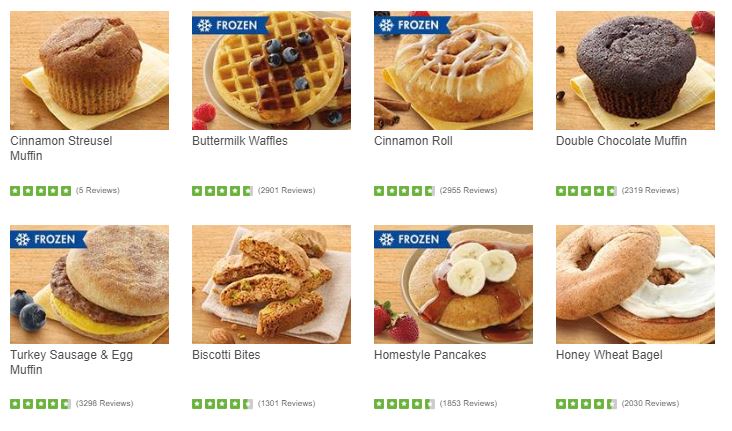 Lunch
Dinner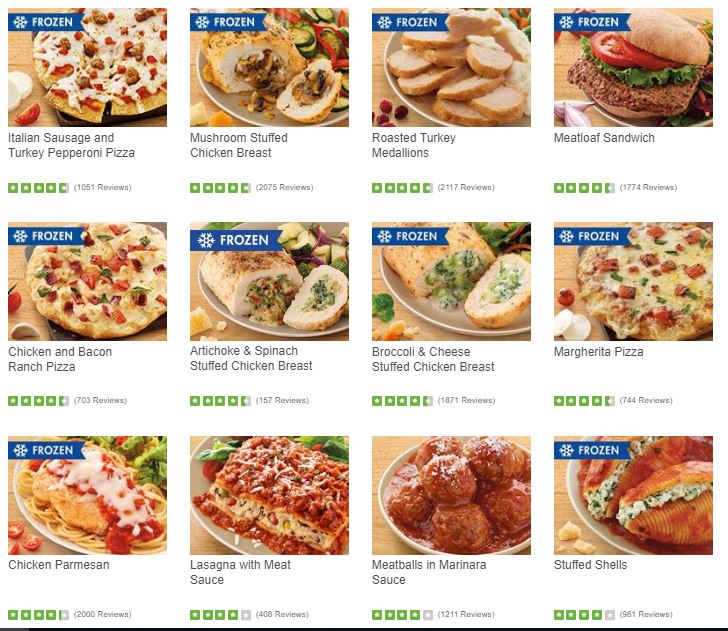 How Does it Taste?
I was pretty impressed with Nutrisystem.  I tried the Chipotle Beef and Broccoli Bowl. This Nutrisystem  meal was very delicious, a little spicy and left me completely satisfied after the meal.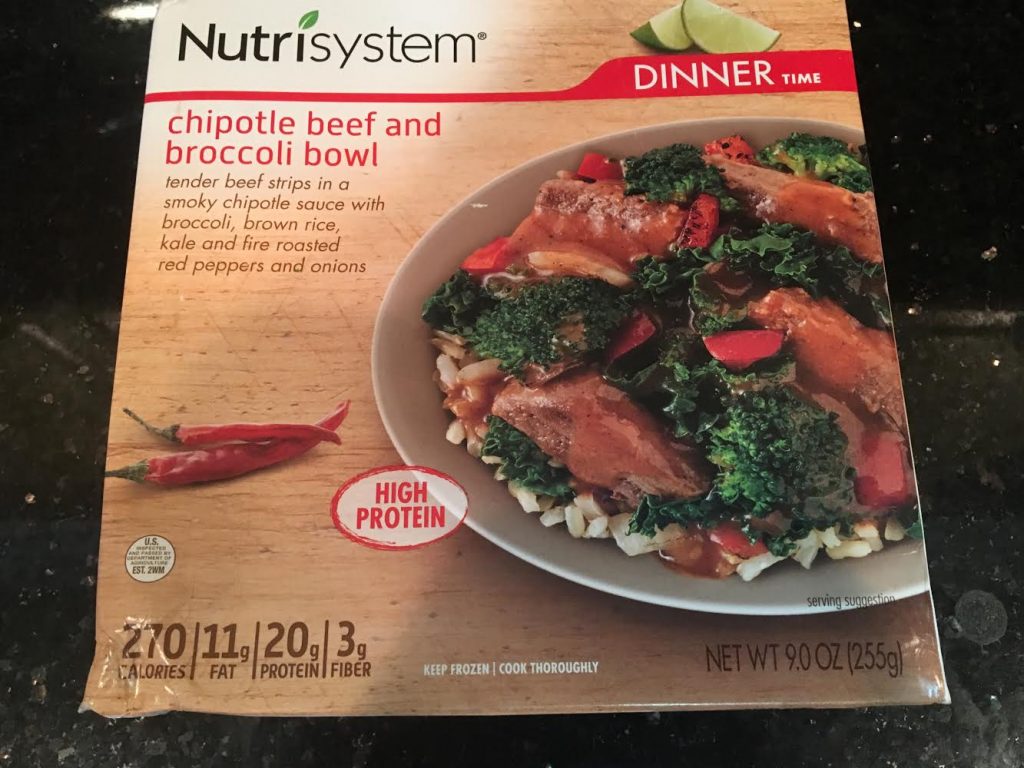 Did the meal look like it does on the box?  It's never exactly the same, however the Chipotle Beef and Broccoli Bowl had several large pieces of broccoli, several pieces of chicken and a large amount of brown and white rice.
It was quite tasty, and afterwards I wasn't still hungry.  Many other pre-portioned meals are skimpy and the portion is quite small for the money.
Nutrisystem gives you a full meal in each box.  These portion-controlled meals allow you to feel satisfied.  You lose weight by not wanting to keep eating more.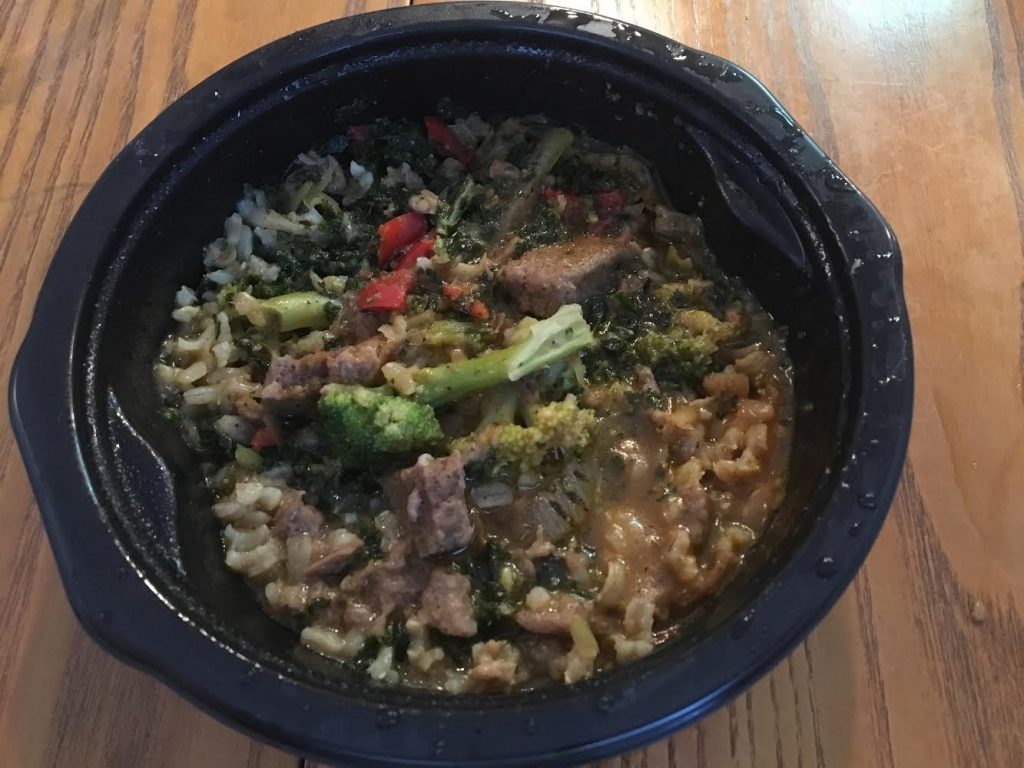 The preparation instructions are super easy.  Pop in the microwave oven for 3 minutes, stir and then enjoy.
The Nutrisystem meals are low in fat and saturated fat, and are also low in sodium and sugar.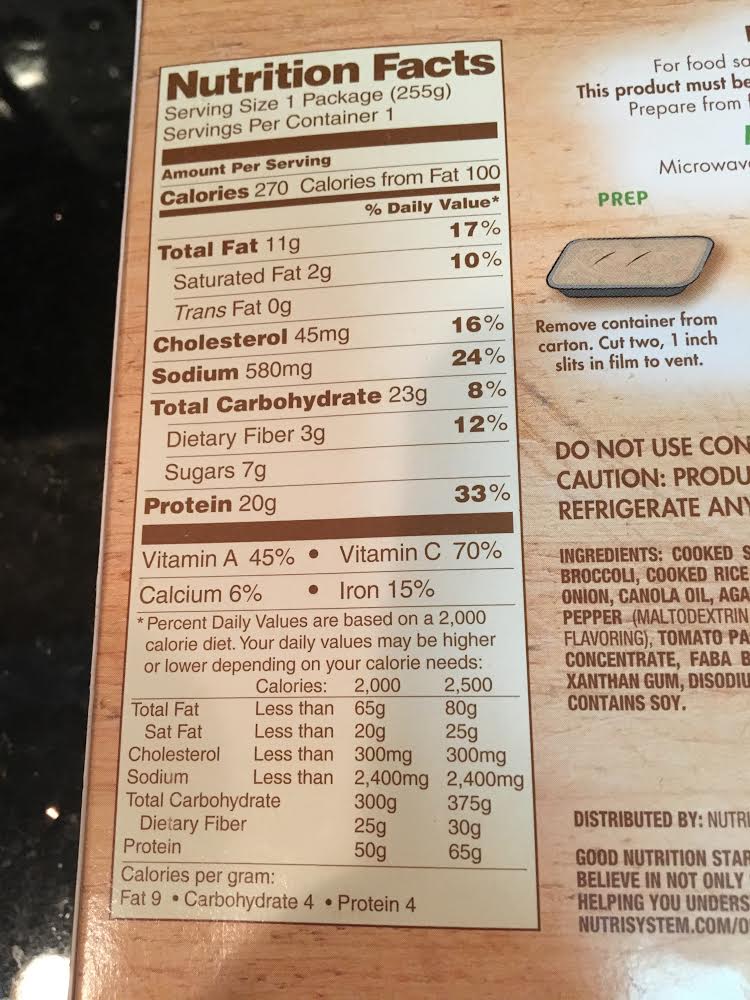 I've tried a lot of portion-controlled meals from other companies, but found they were skimpy and contained barely enough food for a meal.
That however is not the case with Nutrisystem for Men.  Just look in the bowl.  You can see several pieces of chicken, large pieces of broccoli, and plenty of white and brown rice with sauce.
That's the key to losing weight with the plan, since you eat 6 meals a day.
This way you have no desire to snack outside of the times the plan recommends.
Are You Ready to Lose Weight?
Are you ready to lose those excess pounds and inches?  Click the blue link below to get started on Nutrisystem for Men weight loss program.  You can enroll, order your meals and begin losing weight.
You can choose your own meals or have the system recommend meal options to meet your weight loss goals.
Order Nutrisystem for Men Here:

Ken Weiss is a health blogger who is passionate about natural and holistic cures for men's health issues. He is the founder of menshealthcures.com