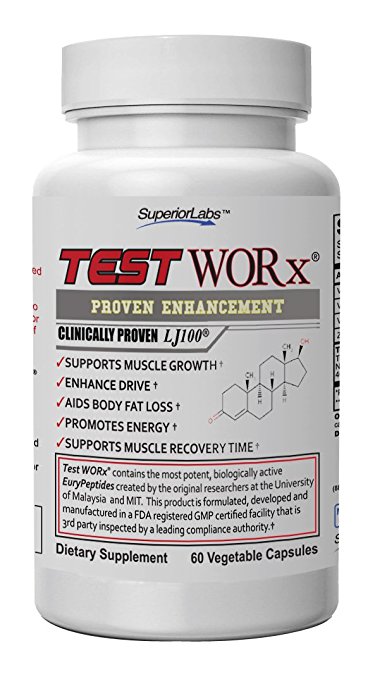 Test Worx from Superior Labs, is the best selling natural testosterone booster on Amazon.com  that naturally boosts free testosterone levels in men without the potentially dangerous side effects of a prescription hormone replacement therapy (HRT).
In addition to using a natural testosterone booster, men should include a daily or weekly exercise regimen that includes weight lifting and making diet modifications.
Superiorlabs, LLC, is a US based maker of dietary supplements located in sunny San Diego, CA, is a popular natural testosterone booster that contains a 30 day supply of the the most potent and biologically active EuryPeptides®, created by researchers at the University Malaya and MIT, to increase Free Testosterone(FT) levels and unbind bound testosterone, and the manufacturer states you will see an improvement in your testosterone levels within 2-3 weeks.
After the age of 30, men may begin to experience the signs of low testosterone, as the production of the male sex hormone, testosterone, in men can drop by as much as 1% to 5% per year, and by the age 50 many men can lose as much as 50% of there free testosterone, and can experiencing many of the most common symptoms of low testosterone, such as:
low sex drive
mood swings
lack of concentration or focus
lost interest in activities they once found enjoyable
weight gain in the belly
loss of muscle mass
insomnia
osteoporosis
erectile dysfunction.
How Does Test Worx Boost Low Testosterone Levels?
While many testosterone boosters only use tribulus terrestris as the primary testosterone boosting agent, to increase levels of free testosterone, Test Worx includes three of the primary natural agents known to boost free testosterone levels naturally:  Tribulus Terrestris,  Tongkat Ali extract (Long Jack) and L-Arginine.
Free testosterone is a measure of  bioavailable or "Free" testosterone molecules floating freely through your blood system that is not bound to any other chemicals or proteins.  Free testosterone is critical to do the following:
improve sex drive and sexual desire
reduce excess fat and build lean muscle
Ensure normal production of sperm
help men achieve a hard erection
reverse symptoms of erectile dysfunction
improve concentration
boost mood and well-being
build strong bones to prevent osteoporosis
What are the Test Worx Ingredients?
The proprietary blend of ingredients in the 30-day supply of Test Worx, includes Tongkat Ali (Long Jack) in a proprietary formulation called LJ100® , Tribulus Terrestris, and L-Arginine are clinically proven to boost testosterone levels in men by reducing  Sex Hormone Binding Globulin (SHBG), which binds testosterone to fat cells and makes it unavailable for use in the body.
By unbinding androgenic chemicals in the blood, particularly Testosterone, this increases the levels of Free Testosterone in the body by 70% to 130%, and as levels of testosterone increases, this helps to increase sex drive, boost energy levels, improve concentration and supports mood and well-being.
This makes this the  best testosterone booster on the market  from Superiorlabs, which is available at Amazon.com.  Increasing free testosterone levels naturally decreases excess levels of fat (particularly in the mid section), builds muscles, improves energy levels, improves concentration, heightens sex drive and improves overall well-being.  For men who work out, Test Worx has shown to make work outs more effective, increases strength and improves muscle recovery
TEST WORx® ingredients have studies published in the British Journal of Sports Medicine, The Journal of International Society of Sports Medicine and the International Journal of Andrology and Asian Journal of Andrology.
Made with Vegetarian Capsules 
Most capsules used in dietary supplements are made from gelatin, which is an animal based product.  Test Worx available here from Amazon.com,  uses Vegetarian Cellulose Capsules(vegcaps), which is an insoluble fiber derived from fruits and vegetables.  This is generally suitable for vegetarians, vegans and those who do not eat certain animals for religious purposes.
Benefits of a Natural Testosterone Booster for Men over 40
Natural Testosterone Booster contains all-natural ingredients clinically proven to increase free testosterone levels 70% to 130% and decreases SHBG.
Made in USA in FDA Certified Facility.
Noticeable increase in energy levels, boosts libido levels and improves motivation within 2 weeks.
Reduces fat, particularly in mid section.
Increased mental focus, concentration and clarity.
Improves mood and well-being.
Optimum 6 week dosage for highest free testosterone levels.
Increased muscle strength, metabolism, muscle recovery, mental focus and intensity.
100% 60-day Money Back Guarantee if unsatisfied for any reason.
Made in the USA
While many testosterone boosters are made in China or in unregulated facilities, Test Worx 
available here
is manufactured in the USA in an FDA certified facility from all-natural ingredients using
Good Manufacturing Principles
(GMP) for your safety and satisfaction.

100% Satisfaction Or Your Money Back

Superiorlabs, LLC will provide a 100% full no questions asked money back refund for your purchase of Test Worx if  it doesn't meet your expectations.  Use the contact form and provide your email or order # and you will be issued a refund within 24 hours no questions asked.
Customer Testimonials
My wife bought this product for me as an unexpected gift and I wanted to leave a review because I am especially impressed with this product. I am in week five and although I haven't finished I have seen enough to leave my 2 cents. I am 47 and work very long demanding hours of manual labor. Needless to say my energy levels, motivation and sex drive have been quite a bit lower over the past couple years and has become more noticeable over the last year.
Wow!!! My sex drive is through the roof with this product. At first I thought it was the placebo effect, but it seriously is hitting me hard, lol.
My strength has gone up when lifting (around 8-10% overall). I also notice that I recover faster in between sets. I feel ready to go almost immediately. I have had actual testosterone injections before, but I didn't like the side effects that went along with it. Plus it was expensive.
Overall: This is a great product! If you need better sleep, better focus, a better workout in the gym, and the bonus of pump in your sex drive sex drive… Try it. You will not be disappointed.
I had previously made a poor review on this product and would like to retract my review.  This product unfortunately didn't work for me but may very possibly work for others.  After leaving my previous poor review the owner of superior labs, Jake Mason, contacted me personally buy email and explained what the problem might have been and went out of his way to contact amazon to issue me a refund(which i didn't think i would get). i think that shows a very high level of integrity and caring.
I'm 37 yrs old and I work out on a regular bases.When I'm using Test WorkX I notice a much higher libido and I find it alot easier to gain 5-10 lbs of lean muscle while taking this supplement. I recommend Test WorX to any one looking to raise there natural testosterone levels and to help gain lean muscle .
 Where Can you Buy Test Worx Testosterone Booster?
Test Worx is not available in stores.  Our research indicates the best online store to Buy Test Worx Natural Testosterone Booster is at Amazon.com for immediate shipment,  excellent customer service and Free Shipping.
This popular natural testosterone booster is manufactured in an FDA registered facility of all natural ingredients using Good Manufacturing Practices (GMP), to ensure your safety and satisfaction.
Ken Weiss is a health blogger who is passionate about natural and holistic cures for men's health issues. He is the founder of menshealthcures.com