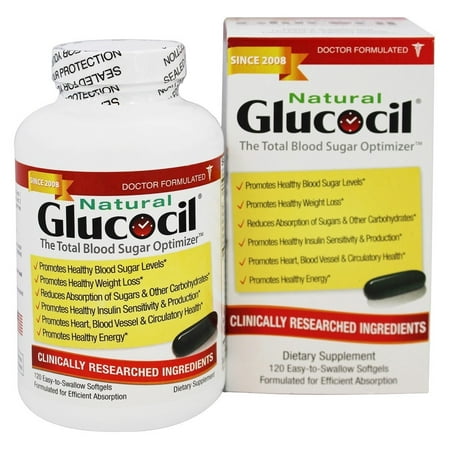 Glucocil is the #1 dietary supplement developed to optimize blood sugar levels, in men and women over 40,  who have concerns about maintaining normal blood glucose (blood sugar) levels.
Glucocil is a natural blood sugar supplement that was created based on 7 years of research and development, to help men and women over 40 to promote normal blood sugar levels.
These statements have not been evaluated by the Food and Drug Administration. This product is not intended to diagnose, treat, cure or prevent any disease. Results will vary and there is no guarantee of specific results.  Consult your doctor before using this or any product.
Why Use Glucocil:
Glucocil blood sugar supplement may help with the three key factors that can contribute to maintaining normal blood sugar levels, such as:
Reduces glucose absorption in the intestines
Reduces glucose production in the liver
Increases glucose uptake in the cells (improve insulin sensitivity)
The herbal ingredients in Glucocil are supported by 144 studies, including:
23 on mulberry leaf.
13 on alpha lipoic acid.
6 on banaba leaf.
24 on berberine.
14 on chromium.
8 on cinnamon bark powder.
13 on fish oil.
6 on gymnema sylvestre.
6 on insulina (Cissus sicyoides).
8 on veld grape (Cissus quadrangularis).
8 on vitamins B1 / B6 / B12, and 15 on vitamin D.
The creators of Glucocil are offering a 15-day sample for all new customers right now.  Find out more here.
Glucocil Benefits:
Promotes normal blood sugar levels
Reduces post-meal blood sugar elevations
Reduces absorption of sugars & other carbohydrates
Promotes healthy insulin sensitivity & production
Supports normal blood lipid levels
Promotes heart, blood vessel, and circulatory health
Promotes healthy weight loss
What's in It?
Glucocil Blood Sugar Supplement contains a propriety blend of  FOURTEEN all-natural herbal ingredients that have been shown to work together to support normal blood sugar levels.
Phellodendron Extract
Phellodendron is a plant.  The bark of this plant contains the active ingredient berberine, which has been shown to support glucose and lipid metabolism.
Mulberry Leaf Extract
Mulberry leaf extract has been used to maintain normal blood sugar levels by numerous cultures around the world, and studies have show that it promotes normal blood sugar levels, even after a meal.
Gymnema Extract
Gymnema sylvestre is a woody plant found in Africa, Australia, and South and Central India.This plant has been mentioned in 5,000 yr old ancient Indian texts, such as "Madhunashini," which in Sanskrit literally means 'destroyer of sugar.'
Grape Seed Oil
Grape seed oil has been shown in studies to slow the metabolism of blood sugar, thus maintaining normal blood glucose levels in study participants.  The study also found participants lost some weight, had less appetite and increased anti-oxidant enzymes in their blood.
Banaba Extract
Banaba leaf is a plant, and not to be confused with "banana" leaf.  This medicinal remedy has been used for thousands of years by people in India and the Philippines to naturally maintain healthy blood sugar levels.
Insulina Leaf Extract
Insulina extract (Cissus sicyoides) is a plant indigenous to Brazil, and has been used for many health related issues, and has been found to normalize blood glucose levels.
Cinnamon bark
You may think of cinnamon as simply a spice for cooking or to make warm holiday drinks, but in fact, the use of cinnamon for medicinal purposes dates back over 5,000 years to Ancient Egypt.
Cinnamon bark has been shown to optimize normal blood glucose levels.
Testimonials:
"I've been using Glucocil for 3 weeks, and I love it. Even though I take 3 a day, it's still good for me, keeping my blood sugar steady at 95. Thank you!"

– Mary
"The only side effect I have experienced is the loss of the extra pounds that I had gained and the amount of ENERGY that I have every day! Thank you so much for this product! I'm feeling normal again!!"
– Karen
"Taking Glucocil has made me very conscious of my diet and exercise and my body weight has dropped 35 pounds in the past year and a half. As a result, my energy level is up. I am very pleased, and intend to keep this regimen of diet, exercise, and Glucocil."
– Joel
"I am a firm believer in Glucocil and highly recommend it."
– David
"I found the Glucocil website and decided to try a natural way. I have lost 12 pounds so far and I still have more to go. Glucocil has given me more energy and it has stopped my food cravings."
– Debbie
30 Day Money Back Guarantee
Every order of Glucocil comes with our 30-day Money Back Guarantee.  You have 30 days to try Glucocil, and if you are not 100% satisfied, you can return it for a full refund.
You have nothing to lose and your health and wellness to gain!
Get a Glucocil 15-day Sample
The creators of Glucocil are offering a 15-day sample for all new customers right now.  Find out more here.
Ken Weiss is a health blogger who is passionate about natural and holistic cures for men's health issues. He is the founder of menshealthcures.com