Goglia Nutrition Plans, or G-Plans for short, is a health technology company developed by Dr. Philip Goglia.  This unique weight management company creates cutting edge health and nutrition products that relies on your metabolism to make weight loss more efficient.
Most other weight loss programs offers a one-size-fits-all program.
G-Plans uses your unique Metabolic ID to create a road map to weight loss for you.  By creating an individual eating plan based on your metabolism, this will super charge your weight loss.
Men lose weight differently than women do, and the G-Plan helps create a custom weight loss plan for you.  Get your free Metabolic ID now.
What's Your Metabolic ID
Every person has a unique metabolism or metabolic ID.  This determines how easily you metabolize food (proteins, carbohydrates and fats) to help you lose weight.
To determine which G-Plans Program is best for you, you just take a short online survey. This will determine your metabolic ID, due to several factors, including:
What you eat
How much you eat
What are your weight loss goals
Your age
Do you eat more carbs or protein
How your body metabolizes them
Do you have a family history of heart disease or Type 2 Diabetes
How well do you sleep
How often do you get up at night
Ease in going back to sleep
Do you often feel bloated after eating
All of these factors, which are based on:
gender
age
body shape
and 5 other key indicators helps to determine your metabolic ID.
Dr. Goglia says, the problem with most weight loss programs is people are eating the wrong foods for their metabolic ID.
If you're not eating the right foods for your metabolism, age and other factors you will often gain weight, or you may lose weight very slowly.
This Metabolic Diet  takes your unique metabolic ID into account to create a unique eating plan for you.  This diet plan is based on the amount of proteins and carbs you should consume, based on your age, weight, how you metabolize food, other factors and your weight management goals.
Get the App
Using a special App on your smartphone or tablet computer, available here you will quickly and easily receive your weekly meal plans, you can update your daily food intake and track your weight loss progress towards your target weight goal.
You can find hundreds of recipes on the app and also a cookbook with delicious recipes you can make at home.
You do not have to buy expensive portion-controlled meals. This is vital if you have dietary restrictions, such as paleo, kosher, vegetarian, vegan or Halal, that prevents you from eating pre-packaged diet foods.
The G-Plans is based on data and science.  Dr. Goglia has 30 + years of expertise in weight management, including a PhD in Nutritional Science, and his association with The American College of Sports Medicine and the National Academy of Sports Medicine.
Who is Dr. Goglia
Who is Dr. Philip Goglia, developer of Goglia Plans?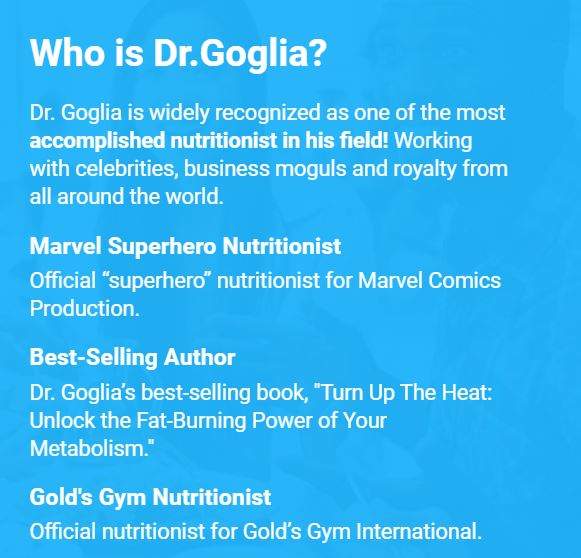 Get Your Free Metabolic ID here.
No Canned Meals on This Weight Loss Program
You won't get a list of expensive packed meals you can order with Goglia Nutrition Plans, like with other weight loss programs that make you buy their meals.
Each week you receive a customized weight management plan, based on your progress, with meal plans from their online library of thousands menu options or from the G-Plan cookbook that you make in your own kitchen.
You buy healthy fresh ingredients from your local grocery store for the meals.  You don't just microwave portion-controlled processed foods.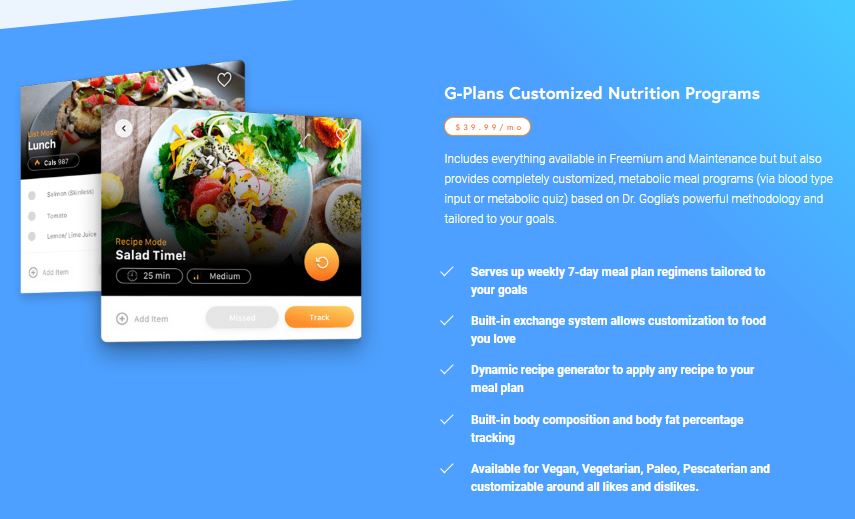 What G-Plans is For You
The G-Plans Journal is a free resource you download onto your cell phone or tablet computer.   It allows you can track your progress on the go. You can track your meal planning and update daily food intake at home, at work or anywhere you will be eating.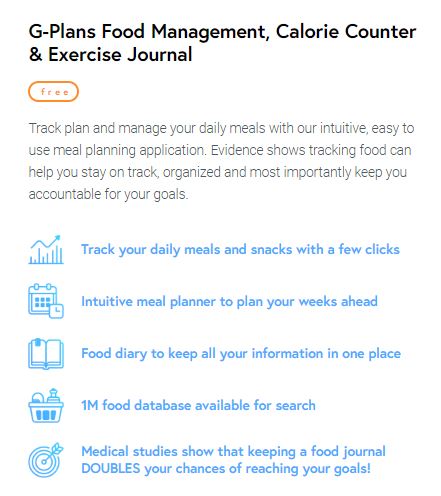 Plan 1 – Maintain
This is the basic G-Plan Maintain that simply helps you plan healthier meals and tracks what you are eating to boost your metabolism and cut your calorie intake.  This is good for people who need a little guidance.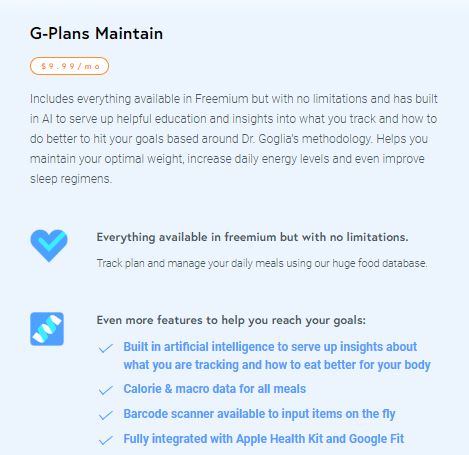 Plan 2 – Managed Pan
The Managed Plan starts with the Maintain Plan, and gives you the assistance of a trained nutrition expert who will help guide you through your weekly meal planning.
Your one hour weekly consultations are done online. Your consultations are scheduled around your availability for your convenience or privacy, especially if you are traveling on business, on vacation, or you don't want co-workers or family members to hear your phone calls.  There is no need to attend weekly meetings at a weight loss center.
The trained nutrition expert can answer any questions or concerns you have about the plan, your metabolic ID, or how your meal plan will help meet your goals.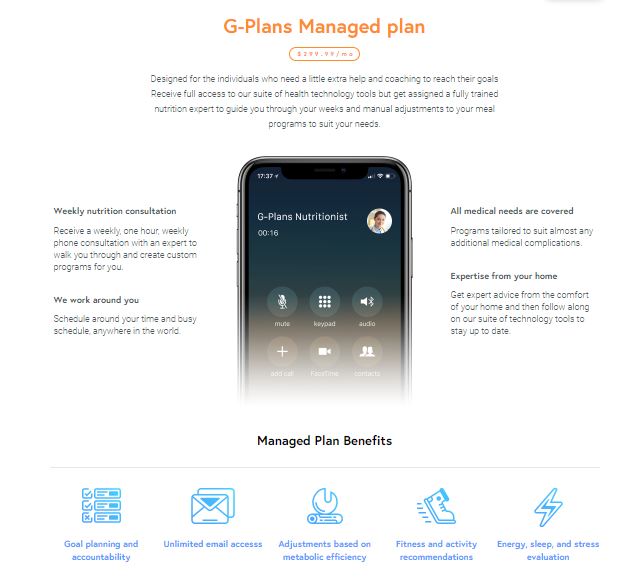 Plan 3 – Custom Nutrition Plan
If you have Type 2 Diabetes, Celiac Disease, Vegan, Paleo or have other dietary restrictions, then the G-Plan Custom Nutrition is the perfect meal plan for you.
This weight loss plan provides tailored meals plans for your dietary restrictions.  This plan does not include weekly consultations with a nutrition expert.  You need the Managed Plan if you want a weekly consultation.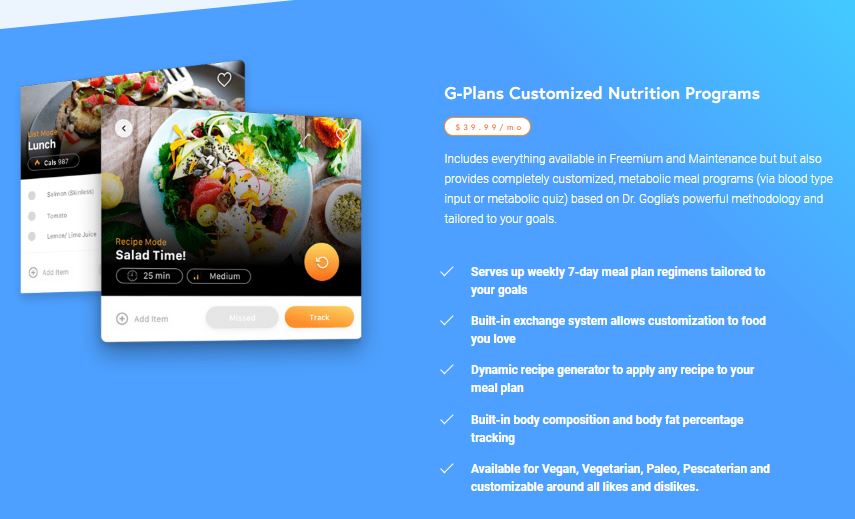 G-Plan Supplements
Dr. Gogli offers a variety of supplements to enhance your weight loss program.
You can see all the supplements here.

Ken Weiss is a health blogger who is passionate about natural and holistic cures for men's health issues. He is the founder of menshealthcures.com