It's already hard enough to lose weight, but it's even harder to shed extra weight when you keep kosher and can't find a kosher weight loss program.
The creators of the Direct Direct understood the importance to offer a kosher Weight Loss Program.  They offer a large variety of Delicious Kosher Diet Foods for Weight Loss, to help those who keep kosher to have programs to lose weight.
This popular Kosher Weight Loss Program for Men offers over 100 healthy and nutritious kosher breakfast foods, main dishes, and a large selection of meal shakes and delicious snacks.
This includes, pancake mixes, sloppy Joe mixes, all portion controlled to help you lose weight and keep it off.  This includes kosher pancakes and oatmeal, which are low fat, high protein and fiber,  zero saturated fat and are trans fat free.
The WonderSlim Chocolate Chip Protein Pancake Mix allows you to make delicious  light, airy and filling high protein pancakes, which offer a perfect breakfast option for your weight loss plan.
WonderSlim Weight Loss Program
With the WonderSlim Meal Plan from the Diet Direct Kosher Weight Loss Program, you have  3 plan options to choose from to fit your budget and meets your weight loss goals.
Each plan is available in 2, 4 ,9 or 12 week kits.  You can choose them meal plan that best fits your weigh loss goals.
As you select more meals per day, the cost of each meal drops.  If you  select the Premium Complete Plan, you'll get a 10% discount over the Basic Elements price.
A nice feature of WonderSlim compared to other weight loss meal plans, is you have an option to select a one-time purchase of 3-day up to the 12-week meal plan, or for an additional savings you can select the subscription plan.
Most other weight loss programs force you into an expensive subscription plan that is hard to cancel.  The the WonderSlim Meal Plan offers you two options with each plan.
One-Time Purchase with n commitment to continent
Subscribe and Save Option with a 10% discount
This gives you the option to try the food one-time and see if you shed excess pounds, or purchase a membership for additional savings.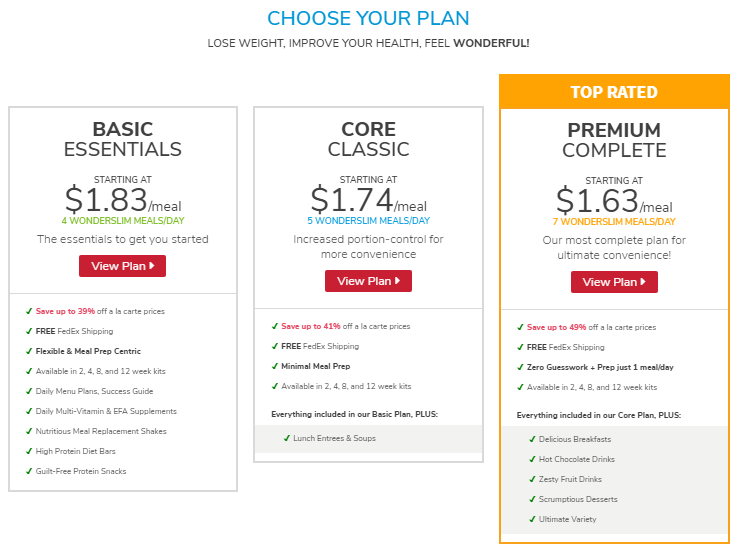 Benefits of eating 6 times per day?

You're probably used to a traditional diet plan that includes three meals a day.
With the WonderSlim Kosher Weight Loss Plan, you are eating 6 sensibly sized meals per day.  1 -You have meal replacement shake in the morning, 2 – a light snack 2-3 hours later, 3 – lunch,  4- another light snack in the afternoon, 5 – dinner, 6 – then a light dessert in the evening.
Eating six sensibly-sized meals per day has been proven to be an effective way to lose weight, since it super charges your metabolism to burn fuel you consume for energy.  This also keeps you from getting hungry, and maintains normal blood sugar levels.  By eating every three hours, this keeps you from feeling hungry during the day, and can prevent you from overeating between meals.  You may be thinking you'll be bloated eating every three hours.  That would be true if you were super sizing your meals.
These are sensibly sized meals that keep you feeling satisfied, thus not full or hungry.  The goal is to prevent you snacking throughout the day, thus mindlessly consuming too many calories throughout the day.
Kosher Breakfast Dishes for Weight Loss
WonderSlim offers a variety of delicious and healthy kosher breakfast options.
These breakfasts are portion-controlled to promote healthy weight loss.
This includes:
Pancakes
Protein Oatmeal
Meal Bars
Meal Shakes
Cereal
Protein Fruit Drinks
Healthy Kosher Main Dishes for Weight Loss
WonderSlim offers are variety of kosher main dishes for weight loss that are delicious and nutritious.  These meals are portion-controlled, to promote healthy weight loss.
These are not skimpy meals that will leave you feeling hungry.  Each meal is well portioned to promote weight loss and leaves you feeling full, so you're not craving food between meals.  This includes:
WonderSlim Protein Meal, Zesty Chili with Beans

WonderSlim  Classic Sloppy Joe

Marinara Ziti
Meal Replacement Shakes
These delicious Kosher meal replacement shakes for weight loss
, are high in protein and low in fat.  Each single serving shake includes 24 vitamins and minerals, and makes you feel full quickly to promote healthy weight loss.
These creamy delicious and nutritious high protein kosher weight loss shakes will satisfy your appetite while helping you lose weight and excess body fat.
These kosher weight loss meal replacement shakes are 100% aspartame-free.  If you prefer a product with aspartame to control blood glucose levels, they have version that contains aspartame.
What are Ingredients and Nutritional Facts
On The Go Meal Shake
Don't have time to to mix up a healthy and delicious meal replacement shake on your way to work or the gym?  No problem.
With the On the Go Kosher Meal Replacement Protein Shake, this delicious high protein and low fat drink has a whopping 15 G of protein and just 1.5 G of fat per bottle.
WonderSlim On-the-Go Meal Shake
Benefits of WonderSlim Kosher Weight Loss Program:
Testimonials
I've been using Medifast for the past several years to get rid of about 10 lbs that creep up throughout the year. It had become increasingly expensive, and this year I panicked when the food wasn't even available. I had looked at Wonderslim in the past, but didn't fully understand that it is basically the same concept with the 5 and 1 lean & green daily meals. I'm so happy that I took a chance this year with Wonderslim. The food even tastier than Medifast, MUCH cheaper, and I'm losing weight.
You can choose how many weeks you want to shop for but then you can fine tune it from core, basic or premium! I also appreciate having more choice within a category. This definately helps me save money!
I really like this diet. It's more affordable than other's I've been on. I have been losing weight and this is one of the first diets I've been on where I don't get horribly hungry between meals. The love the varieties this diet has and hope to see more in the future! I love trying new flavors!
It's so nice not to have the auto ship feature on these products. I have been going back to these products repeatedly.
Ken Weiss is a health blogger who is passionate about natural and holistic cures for men's health issues. He is the founder of menshealthcures.com