Amazology for Men is natural skincare for men made from herbal and botanical ingredients, that are found in the Amazon rain forest.
This 3 step skincare treatment protocol helps to naturally rejuvenate and re-hydrate men's skin. In addition, it helps to replace lost vital antioxidants.
Poor diet and environmental factors can deplete these vital nutrients. Free radical agents in our modern society, can lead to damage to men's skin.
What is Amazology
This men's skincare line was developed by Mike Novielli. He is a 53 year old man who was seeking high quality and affordable natural men's skin care products. Mike was unfortunately unable to find the men's skin care products he was searching for. After months of research, he created Amazology for Men.
Amazology is skincare for modern men, who often lead active lives or face harsh work environments.
These activities can damage and age men's skin, and thus men need a skincare treatment that can keep skin looking fresh and youthful.
In a 2016 report, the men's skincare market is expected to top $21 Billion USD by 2020. You can see the amazing market growth. This is due to the many men's skin care products that are available today.
This natural Skincare treatment for Men is made from nutrient-rich botanical ingredients, which are often found naturally only in the Amazon rain forest. These super foods can naturally reverse the damaging affects of free radials. These destructive agents unfortunately, can prematurely damage and age men's skin.
My Men's Skincare Regimen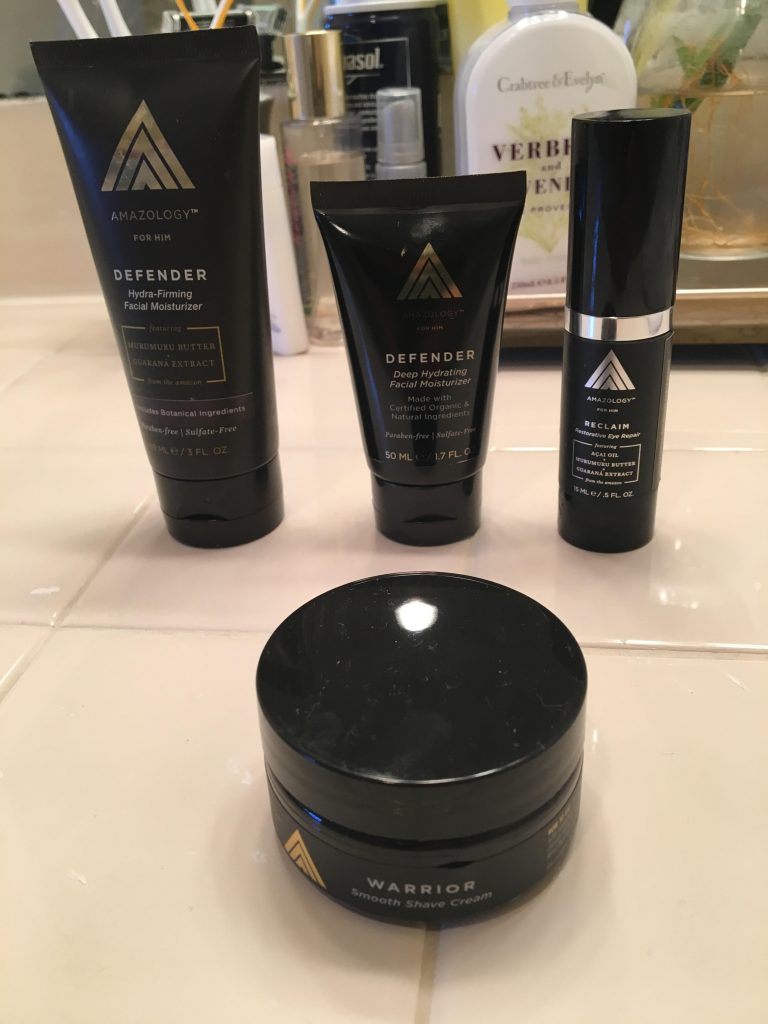 I have used several men's skincare products over the years. Some worked well, while some unfortunately were a total waste of money.
Amazology for Men is different from other men's skin care products, which is why it is my go-to daily men's skincare treatment. This product helps reduce puffiness around your eyes. This product also helps middle age men regain that youthful feel and look. It most noteworthy, helps reverse that tired eyes look.
My daily skincare care regimen includes Reclaim Restorative Eye Repair, then I follow it by the Defender Hydrating Facial Moisturizer each morning.
I apply just a pea-size dab of Reclaim Restorative Eye Repair to each eye. Afterwards, I apply Defender Hydrating Facial Moisturizer. The process is quick, taking less than three minutes per day.
The Amazology for Men contains all herbal ingredients, including:
Deionized Water
Albizia Julibrissin (Persian Silk Tree) Bark Extract
Glycerin
Darutoside (Holy Herb)
Glyceryl Polymethacrylate
Sorbitol
Ascophyllum Nodostrum (Knotted Wrack) Extract
Asparagopsis Armata (Red Algae) Extract
Allantoin
Aloe Barbadensis Leaf Juice
Caffeine
Camellia Sinesis (Green Tea) Extract
Coffea Arabica (Coffee) Seed Extract
Murumuru Butter
Cucumis Satvius (Cucumber) Fruit Extract
Euterpe Oleracea (Acai) Fruit Oil
Maltodextrin
Melissa Officinalis Leaf Extract
Propylene Glycol
Panax Ginseng Root Extract
Paullinia Cupana (Guarana) Seed Extract
Carbomer
Potassium Sorbate
Silica
Sodium Benzoate,
Tetrasodium Glutamate Diacetate,
Xanthan Gum
Zingiber Officinale (Ginger) Rhizome Extract
Caprylhydroxamic Acid
Benzyl Alcohol
Aminomethyl Propanol.
How Free Radicals Damage Skin?
Free radicals increase the process known as "oxidative stress," which unfortunately can causes skin degradation that damages healthy skin cells.
The increased presence of free radicals in the skin unfortunately helps accelerate the aging process.
This stress can result in the dreadful appearance of fine lines, wrinkles, dark spots…even in men in their 30's.
The aging process of men's skin is different from women, which is due to two factors: hormones and collagen.
Women have more estrogen than men. Men, on the other hand, have more testosterone pulsing through their body than women do. Men above all, have a high percentage of collagen than women, which is the protein that holds skin and organs together.
This leads to these common skin problems men begin to face in their 30's and 40's:
– Fine Lines around the eyes and forehead.
– Puffiness and Dark Circles under the eyes.
– Dark Spots on the face on neck.
– Sagging eye lids.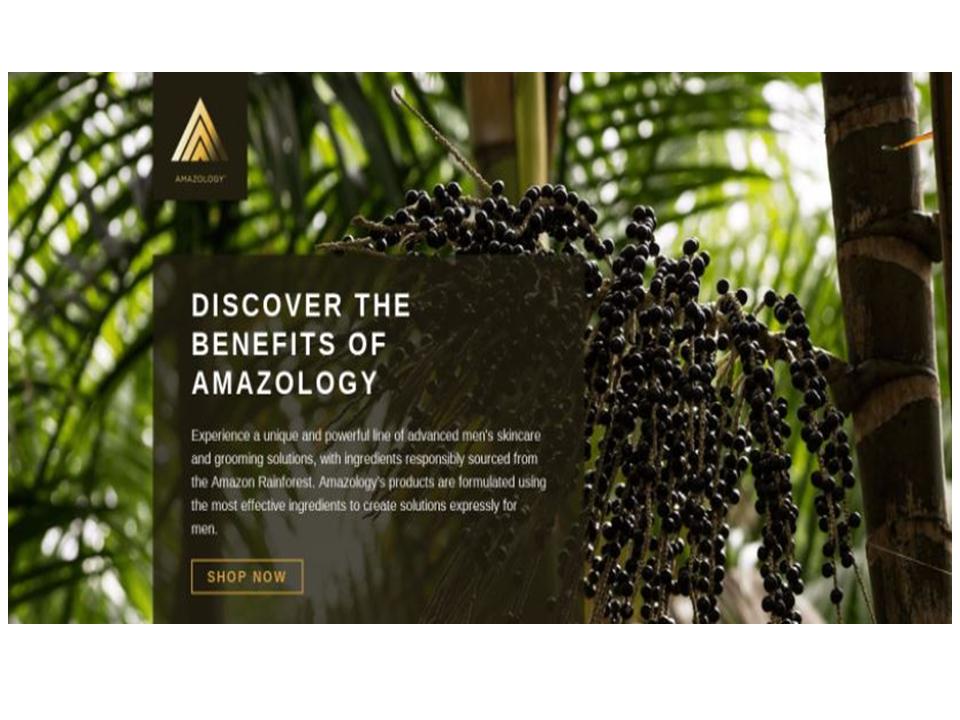 Amazology is Made with Three Key Ingredients:
1. Açaí Oil
Açaí Oil is derived from the Açaí berry "super-fruit".
It has the highest concentration of antioxidants of any known fruit, and naturally combats the affect of skin-damaging free radicals. This can cause the destruction of skin cells. Antioxidants also can lead to wrinkles and early aging, which are due to the damaging affects of free radicals.
The Mayo Clinic states, "[Açaí berries] may have more antioxidant content than other commonly eaten berries, such as cranberries, blueberries and strawberries."
2. Guaraná Powder Extract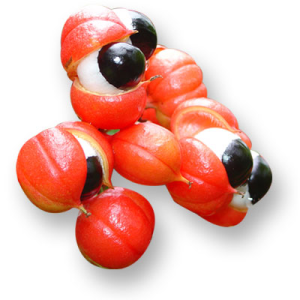 Guaraná is a fruit found in the Amazon rain forest.
This fruit contains anti-microbial tannins, and it helps inhibit the affects of oxidative stress on the skin. Guarana also neutralizes the damaging affects of free radicals.
3. Murumuru Butter
This product is derived from a nut, which grows on palm trees that are found primarily in the lowlands of the Amazon Rainforest.
This creamy substance is naturally high in Vitamin A and rich in Omega 3 and Omega 6 fatty acids.
Where is Amazology Made?
Amazology® Skincare Treatment for Men available here, is made in the US from natural and botanical ingredients, that are sourced responsibly from the Amazon Rain forest in South America.
Amazology men's skincare products are manufactured in an FDA approved quality -controlled environment. They undergo rigorous testing for compatibility, stability, specific gravity and pH balance.
No animals are used in the testing of these ingredients.
Men's Skin Ages Differently than Women's Skin

Amazology aims to reverse the damaging affects that time and free radicals have on the skin.
Men's bodies actually contain a higher concentration of androgen hormones (i.e. testosterone), which causes an increase in thickening of the facial skin.
This is the main reason men's skin is 25% thicker than a woman's skin. While men have thicker skin, both men and women can unfortunately lose about one percent of their collagen per year after age 30.
This loss of collagen is a primary reason middle age skin has wrinkles and loses it's tight and vibrant texture, often found in younger youthful looking skin.
Daily use of Amazology for Men helps reverse these damaging effects, and help you regain younger looking skin.
External agents that help promote oxidative stress and damage men's skin are:
smoking
excessive alcohol consumption
air pollution
sun exposure without UV protection
drug use
lack of exercise
poor diet
work or personal stress and anxiety
Amazology Benefits

Get Amazology for Men Here
If you are ready to finally take care of your skin, and give yourself that young youthful glow, you need to try Amazology for Men.
sources
Ken Weiss is a health blogger who is passionate about natural and holistic cures for men's health issues. He is the founder of menshealthcures.com